26th December - 1st January
A hard frost on the 26th, -9.4ºC (the coldest so far!) and then a thaw with 6mm of rain on the 27th and, although it's been overcast and damp, no more snow. I don't think anyone, except the young, will mind if we don't have any more this winter, and, although it was bad here, it seems to have been a lot worse to the North and East of us.
2010

Total rainfall was 799.5mm, the lowest for more than 20 years in our area. Of course, snow in January and December meant we received more water than the total rainfall, but anyone who has melted a bucket of snow will know there is not much water, it's mostly air. The wettest month was August and the month with the least rain was December.

We had frosts in January, February, March, April, October, November, December, which is unusual here, giving 81 nights when the temperature fell below freezing, and on some of those a long way below giving the hardest frosts since the '80's.

The spring was dry and late to warm up, with February daffodills and May tulips out at the same time. June and July were similar with a lot of cloud but little rain and low levels of sunshine. August, with rain on 16 days, was the wettest month with 176.5mm. September and October gave some of the best weather of the year, and the autumn colour was exceptional. On to November and December, colder than usual, frosty mornings becoming almost the norm and snow made it even worse. I never got my Christmas shopping finished!

Things that didn't happen in 2010; no gales -strong winds at times but nothing really damaging, very few thunderstorms and no floods.

I wish everyone a happy new year and may we all get the weather we want in 2011!
19th - 25th December
Another bitterly cold week, apart from the 21st when temperatures struggled to just above zero every other day was below, with Christmas Day the coldest of the week;
19th -8.2ºC
20th -7.4ºC
21st 0.8ºC
22nd -0.6ºC
23rd -2.7ºC
24th -5.0ºC
25th -9.1ºC

It has been very difficult to get about safely especially if you are trying to walk on the pavements. There have been a number of accidents as people slip and slide about while trying to carry on a normal life, so a thaw would be appreciated.
12th - 18th December
It seems to be getting worse weatherwise, as, added to the continual frost, we now have snow as well which has made it very difficult to get about.
Apparently, the roads around Wrington will remain untreated, so we will have no bus services until it warms up (and who knows when that will happen).

Lowest temperatures last week:

12th -1.4ºC
13th -2.7ºC
14th -2.9ºC
15th -2.8ºC
16th -5.1ºC
17th -4.3ºC
18th -8.3ºC

As you can see, in the last week it has got colder as the week progressed, but not all is doom and gloom. What a beautiful day on Saturday with clear blue skies and brilliant sunshine, and the shortest day is nearly here so we will gradually get longer hours of daylight. More snow next week though!
5th - 11th December
Well this is getting a bit monotonous, bitterly cold nights and not a lot warmer during the day.
5th -7.1ºC
6th -2.4ºC
7th -5.3ºC
8th -5.2ºC
9th -7.3ºC
10th -1.1ºC
11th -0.7ºC

Getting a little warmer towards the end of the week, but it still feels pretty cold to me, especially with a breeze blowing. There doesn't seem to be any likliehood of any real change yet.
28th November - 4th December
Another bitterly cold week with freezing temperatures day and night. The only time the temperature rose was Friday evening into Saturday morning when it rained, then back to freezing again:
28th -6.2ºC
29th -7.4ºC
30th -4.4ºC
1st -1.9ºC
2nd -.7ºC
3rd -5.8ºC
4th 0.1ºC

Although our enduring memory of November 2010 will be of snow and frost; it actually rained for the first 15 days followed by another 3 days later, giving a respectable total of 109.5mm. But it was the frost which caused the problems for anyone who needed to get out and about.

December has continued the cold theme, which isn't unusual for a month which, over the last 20 years has produced frost, fog, gales and even snow (once - but not on Christmas day). In the last 20 years the 25th has been wet(12) frosty (1) dry (7, 3 of which were sunny) and it's usually mild.

The average rain for December is 124mm over 10 years, and 119mm over 20 years. 1993 was the wettest with 210mm on 27 days, and the driest was 2001 with 30mm on 4 days.

At least there is something to look forward to this month (apart from the obvious): the shortest day is on the 21st and then days will get longer again.
21st - 27th November
Well, no rain this week, but very cold with a frost on six nights out of the seven. The figures below were the lowest during the previous 24 hours taken in the morning about 08.30am. The lowest temperature is usually between 06.00 and 08.00, with the temperature continuing to drop by as much as 2 or 3 degrees as it starts to get light:
22nd -2.1ºC
23rd -2.4ºC
24th -3.2ºC
25th -4.4ºC
26th -3.2ºC
27th -5.1ºC

We've also had very cold days with temperatures not getting much above zero on a couple of times, but at least no snow yet, unlike Scotland and Northern England!
14th - 20th November
24.5mm of rain on 5 days. A very similar week to the previous one with lots of cold, cloud and damp; with the promise of even colder weather next week. It seems that Winter is upon us!!
7th - 13th November
A wet week with rain every day, giving a total of 61.5mm. Although mainly cloudy in the earlier part of the week, Wednesday was a beautiful day but cold, temperatures quickly dropped down to freezing in the late afternoon, then almost immediately warming up again with rain during the night.

We also had very high winds on Thursday, into Friday. I haven't heard of any damage except our chimney cowl (which came off during the night, making an enormous din!) did anyone else have any?
31st October - 6th November
November has started well as far as rain is concerned - rain every day. 24mm this week.
October

Another month with below average rainfall ( the tenth in the last eleven ) with only 100mm. I have just worked out the deficit in rainfall using the 10 year monthly average and up to the end of October it is 257mm.

That is going to take a lot of rain to catch up, preferably before next summer, very unlikely I think. Blagdon Lake is exceptionally low, I can't remember seeing it as low even in 1995-'96.

Average for November is 140mm over 10 years and 137mm over 20 years. The wettest November was 2009 when it rained on 27 days, 239mm in all and I expect most people can still remember it. The driest was 2001 with 65mm on 12 days.

The last cold November was 2005 with frost on 14 consecutive mornings, but usually November is mild and damp. Some fog is possible but I have no records of snow this month although high winds are likely. Now we've altered the clocks I'm waiting for the shortest day with its promise of spring.
24th - 30th October
Only a little rain, 9mm spread over 3 days, so mainly fine weather this week, giving us all the chance to get out and enjoy the Autumn colour. This seems particularly good this year ... but I expect I say that nearly every year.
17th - 23rd October
Some lovely Autumn weather to start the week, although a cold North East wind. Wednesday was particularly good with a cloudless blue sky but we paid later as the temperature had dropped to freezing by bedtime and it was a very cold night.

Thursday was very cold in the morning, slightly warmer when it rained. Then more rain on Friday and Saturday. Total for the week was 31mm.
10th - 16th October
A dry week with very nice sunshine, but chilly at night. Lowest temperature was -1.2ºC so a slight frost but only briefly, as the temperature dipped down at about 4am, warming up as it got light.

3rd - 9th October
30mm of rain, on 5 days, but improving from mid-week onwards, and much nicer by the weekend. Although not as good as weather forecasters led us to believe - which seems to occur quite often lately - any sunshine now is a bonus which holds the winter back for a little longer.
26th September - 2nd October
With 64mm of rain on 5 days, a wet week - and also our first frost. In the early morning of the 26th the temperature dropped almost to zero for a while, but not much damage, just caught a few exposed plants.
September

Once again below average rainfall with only 61.5mm. Not the best September we've had, but not too bad. We did have some spells of sunshine, sometimes only a day or two, and a whole week in the middle of the month with really summery weather. By the end of the month it had become much cooler and wetter, ready for October

The wettest October was in 2000 with 191mm and the driest 1995 with 62mm. The average over 10 years is 137mm and over 29 years is 121mm, so you can see we expect to have quite a lot more rain in the coming month.

This is also a likely time for gales or spells of very high winds, but I've no record of really cold weather. Possibly the odd morning frost, but it should soon clear and with the clocks changing at the end of the month, this is the run up to winter.
19th - 25th September
17mm of rain on 2 days Wednesday and Thursday. Wednesday seems to be the wettest day of the week so far. Very good Autumn colour developing, especially Acers. If it remains fairly dry for another couple of weeks, there should be a good display - time for a trip to Westonbirt Arboretum perhaps?
12th - 18th September
Only 6.5mm of rain - otherwise a dry week, quite mild until the weekend, but Saturday was very cold. The morning temperature down to 3ºC and it remained cold for most of the day.

September seems to be following the pattern of the last few years as far as rainfall is concerned, but not as warm as last year so far.
5th - 11th September
14mm of rain, mainly on Sunday 6th when we had 12mm. We also had miserable days in the week, endless drizzle, certainly an Autumn feel in the air, but still some lovely sunshine.
29th August- 4th September
A dry week with light, mainly East winds (which is unusual) reasonable temperatures during the day once the sun had broken through, but quite chilly at night.

August

With 176.5mm, August nearly matched 1997's total and passed 2008. It rained on 16 days, with 42mm on the 25th, making it the wettest day since 11th January 2008 when we had 49mm.

On to September ' Season of mists and mellow fruitfulness' - supposedly, but I'm not sure. Every so often we have a very poor September and I think this is going to be one of those.

Averages for this month are 71mm over the last 10 years and 80mm over 20 years, so again only a slight difference. The wettest September was in 2000 with 182mm and the driest 2003 with only20.5mm when it rained on 4 days.

I can find no record of any frost in September but, of course, there is always a first time. Personally I think its highly unlikely for our area, whatever people hear on the forecast!
22nd - 28th August
Another week with rain on 5 out of 7 days. 89mm, 27mm on Sunday and 42mm on Wednesday when it seemed as if it would never stop. No flooding around here because it has been so dry.

The weather improving towards the weekend, our last bank holiday before Christmas.

15th - 21st August
36mm of rain on 5 out of 7 days. Already August is the wettest month of the year so far, and still another 10 days to go. What a shame it couldn't hang on until September when the children have gone back to school.
8th - 14th August
A real change this week, 41.5mm of rain on 4 days and not much sun at all in the second half of the week. The gradually dropping temperature was very noticeable, especially in the evenings. Once or twice this week I was reminded of Autumn !
25th - 31st July
Well, with only 3.5mm of rain this week, July has ended as it started. Another dry month, only 44.5mm and also well below average for the 8th month in a row.
July
has been rather an unusual month, not just for the lack of rain but also for the large amount of cloud we've had. I can't remember when I've seen so much cloud for so little rain which is probably why it hasn't been as hot as I would have expected. Other parts of the country have had a lot more rain, especially Scotland and the North of England.
August

The average rainfall over the last 10 and 20 years is 87mm with a high of 179mm in '97 after rain on only 8 days - 4 at the start of the month and 4 at the end when we had 110mm. Much worse in my view was 2008 when we had 175.5mm but it rained on 27 days - we dont want that again! The driest August was '95 with only 9mm.

As we have had such a dry period, we could do with some rain but I think it's already too late for some crops, so we'll still be suffering the after effects this winter. August is always a variable month anyway, not as good weatherwise as June and July but perhaps this year it will be dry and sunny.
11th - 17th July
24.5mm of rain over 4 days - a bit better, but not as much as we need - and once again, other areas have had much more. Still plenty of sunshine but not quite as warm and a fresher feel to the air.
4th - 10th July
6mm of rain spread over 3 days - Sunday, Wednesday and Saturday so not very helpful in the garden.

A very warm week with heat building up towards the weekend; it's also much more humid which makes it less pleasant. On Saturday this was very noticeable, and then on Saturday night the wind blew quite strongly which cooled everything down, including us!
27th June - 3rd July
No real change. 5mm of rain on the 1st of July otherwise, much as before. Slightly more cloud and temperatures slightly lower towards the weekend.

With only 21.5mm, June was well below average giving us our 7th month in a row of below average rainfall. Plenty of sunshine though, and temperatures high enough to be enjoyable without getting too hot.

So, on to July - average over 10 years 120mm, pushed up by 2007 and 2009 when it reached more than 200mm. The average over 20 years is 89mm - the lowest was 11mm in 1999 when it only rained on 3 days. The highest was 218mm when it rained on 25 days in 2007, closely followed by last year when it rained on 1 day less producing 217.5mm.

So hopefuly there will not be a repeat of those two. I think it's probably unlikely as a dry June is often followed by a dry July, with the weather not changing until the end of the month, and followed by a wet August. Of course, if it gets very hot it may spark off some thunder storms which could provide quite a bit of rain!
13th-19th & 20th-26th June
During this 2 week period we have only had 6.5mm of rain. So just 2 weeks of sunshine getting hotter as we went into the 2nd week with temperatures climbing above 25ºC.

The lack of rain is now becoming a problem, though, as this is the 7th month in a row with below average rainfall. I have noticed some very poor maize in our area, struggling to grow with virtually no rain since it was planted, and grass cut for silage is not regrowing as it should.

So it's not just gardeners who are suffering - this could impact on our food and milk supplies in the coming winter. Sunshine is not all good news.

No real signs of a real change yet, but we could be due a thunder storm or two.
6th - 12th June
Only 9.5mm of rain during last week, so carry on with the watering, especially pots and tubs. The vegetable garden could do with a really long soak but there doesn't seem any likelehood of more than the odd shower in our area.

The temperature has not been exceptionally high though, the mid 70ºFs mainly, so quite comfortable in the day but still chilly in the evening.
30th May - 5th June
12mm of rain fell on Monday and Tuesday, but improving as the week progressed. Thursday , Friday and Saturday very pleasant.

Well, that's May over, another month with below average rainfall - 46mm altogether. Below average temperatures as well, apart from a very mini heatwave! This is probably due to low sea temperatures, the price we pay for living on an island. All of our weather crosses the sea before it reaches us which has an effect on temperatures, but of course, in the Autumn if we had a nice summer, there will be a benefit from the warm sea and we get a warm spell in September and October.

The average for June over 10 years is 66mm and over 20 is 62mm so only a slight difference. The wettest was 163mm in 1998 ( 9 days rain) and the driest 4mm in 1995 when it only rained once. This is usually the driest summer month, only 3 times in the last 20 years has July been drier than June, and we also have the longest days to enjoy it.
23rd – 29th May
17mm of rain fell on Wednesday, but we don't want too big a change in the weather yet. Half term next week and I know some people will be taking a break, so some nice dry warm weather would be appreciated by us all.
16th – 22nd May
2mm of rain on Sunday, otherwise another dry week, but what a change in the temperature. After starting the week with below average figures, it ended with a mini heatwave! – a high of 28.6ºC on Friday and 29.3ºC on Saturday.

It looks like continuing for another few days, but we shouldn't be surprised - this is a very similar pattern to the last couple of years. I just hope July doesn't end up as wet as it was last year!
9th - 15th May
5mm of rain this week, and still much colder than it ought to be for mid-May - though slightly warmer on Saturday. Still very dry, so, unless we get a lot of rain in the second half of the month, we are heading for our 5th month with below average rainfall.
2nd - 8th May
Once again a dry week, with only 3mm of rain. The worst thing this week was the cold N.E wind, making it feel like Autumn and getting worse towards the weekend. Friday and Saturday were really unpleasant with little sun and occasional drizzle.
25th April - 1st May
Quite a change from Saturday to Sunday. Summery weather disappeared to be replaced by overcast skies and rain, also much cooler - and so it remained for the rest of the week. We had 24mm of rain, 11mm of that on the first of May.
April
Another dry month with rain on 7 days, a total of 33.5mm. Not the driest we've had, but fairly close. It does make me wonder how wet the summer is going to be!

The average rainfall for May is 99mm over the last 10 years and 78mm over the last 20 years. May was exceptionally dry in 1990, '91 and '92 - 8.5mm, 9mm and 39mm respectively. The wettest May was in 2006 with 156.5mm when it rained on 18 days.

Whereas April seems to have got drier (not since 2004 has it had more than 100mm) May seems to be getting wetter, but overall by the end of the year the amount doesn't vary very much.
18th - 24th April
Another dry week with the same cold wind to start, but slackening off towards the weekend. Friday and Saturday were very nice with summery weather enjoyed by everyone.

Still cold nights - Thursday early morning down to -1.4ºC, so tender plants still need protecting for a little while longer.
11th - 17th April
No rain at all and we're half way through April, I hope this doesn't mean another wet July like last year. We could do with some rain now to help the seedlings along at the allotment. Still the same cold wind but now it's not just cold, it's pushing along massive amounts of volcanic dust which has caused a complete shut down of airports for safety reasons; it does mean it's quieter though.

We now have hyacinths and tulips, to join the anemones and daffodils already out. Also the early and late tulips are out together which means later there will be nothing - so much for planning.
4th - 10th April
Apart from 2.5mm of rain on Tuesday, a dry week with plenty of sunshine. Still cold at night and a very chilly wind during the day, but it's certainly looking more springlike every day. Our early and late daffodils are out together and the hyacinths won't be long!
28th March - 3rd April
Yes, it did rather go out like a lion, with a return to much colder and wetter weather. The worst was the beginning of April - Friday morning was dreadful with continuous heavy rain and a cold wind. In fact this last week has been the wettest we've had for months with rain every day, 44mm in all.
March was the coldest we have had for many years, with frost for more than half the month and only 58mm of rain for the entire month, all falling in the last 2 weeks, well below average again.

The total winter rainfall, from October '09 to the end of March '10 is 613mm, thanks in part to the very wet November we had - the only month to exceed its average. The last time Jan/Feb/March were as dry was in 1997.

The average for April is 83mm over 10 years and 77mm over 20 years. The highest total rainfall was 183mm in 2000 and the lowest 16mm in 1997 when it rained on only 3 days.
21st - 27th March
5 days with rain, but only 18.5mm in total, so more of a nuisance than a help really.This is really turning out to be a dry month which probably means a lot wetter later on when we don't want it.

No March winds either and in a few days it will be April - but there is still time for March to 'go out like a lion'!
14th - 20th March
14mm of rain, the first this month - so much needed and hopefully quite a bit more to come.
Still frosts though: Sunday -2.2ºC, Monday -1ºC, Tues -1.9ºC but the sun soon warms it up now.

As the 20th marks the vernal equinox we are well into spring and the daffodils are racing to catch up and all our tulips have suddenly shot out of the ground. Lady Day next Thursday, one of the quarter days when rent had to be paid and new contracts made both for land and labour. Not as important now as it used to be (with the decline in Agriculture).

Clocks change next Saturday night/Sunday morning forward in Spring so we will have to get up an hour earlier!
7th - 13th March
Another dry week with lovely sunny days, but still frosty nights. The lowest overnight temperature was Sunday -5.6ºC, Monday -4.4ºC, Tuesday -0.1ºC, Wednesday above, Thursday -0.5ºC, Friday -2.9ºC.

Saturday was probably the best day, really warm in the sun. Able to work outside without a coat for the first time this year.
28th February - 6th March
A dry week with lots of sunshine which made a nice change from our recent weather. Still a cold wind, with frost on 6 nights out of 7, ranging from -1.7ºC down to -5.9ºC on Friday. Because of the sun, it's been warming up fairly quickly and we've had some lovely days, with the spring flowers rushing to catch up after their late start.

I'm glad to see the end of February, particularly the last two weeks of unremitting cloud, rain and sleet. It was cold right through February. First, two weeks of frost and then finishing up wet, but only little amounts of rain each day, giving a monthly total of 71mm, below average again, making the last three months low. Chew Valley Lake is 93% full though, so no shortage there. It's probably benefitting from melting snow on the Mendips topping up the ground water, as they had a lot more snow than us.

March is usually relatively dry, average over 10 years -79mm with a high of 154mm in 2008 and a low of 43mm in 2000. The average over 20 years is 71mm. We usually have spells of dry weather with sunshine by day and frosty nights, but no guarantees ! In 2001 it rained on 20 days with no frost and in 2006 we had snow on the 12th.
21st - 27th February
Some rain every day this week, although only small amounts - 31mm altogether. Also very overcast at times making it dark and unpleasant.
When the sun did come out, it was lovely, but soon clouded over with some very sharp showers as we did today (Saturday). End of February tomorrow, so we should be looking forward to some seasonal spring weather.
Meanwhile, I'm enclosing some pictures of the crocuses at the Old Rectory - they all opened out in the sun today and looked perfect. Chris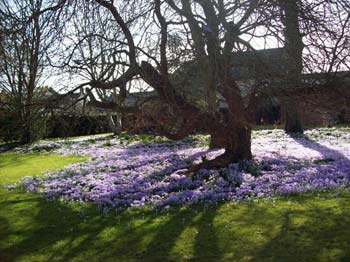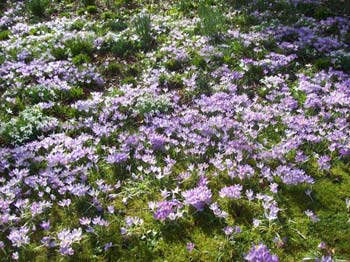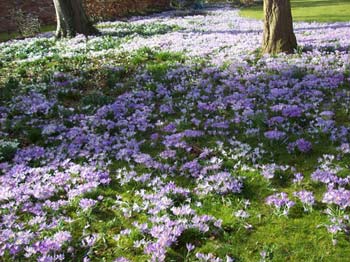 14th - 20th February
25mm of rain spread over 5 days, but we still managed to have below zero temperatures on 4 nights.
-1.4ºC Tues, -1.5ºC Thurs, -3.3ºC Fri and -1.5ºC on Saturday night before it warmed up and rained.
It was a lovely day on Saturday with plenty of sunshine to melt the frost, and only light winds making it feel quite warm at times. Only one week left of February, doesn't time fly!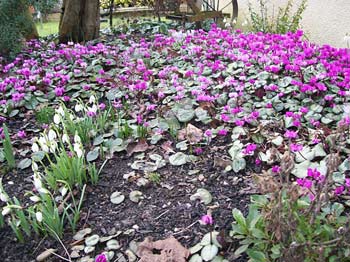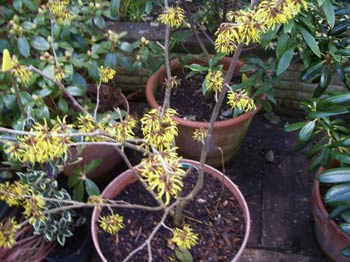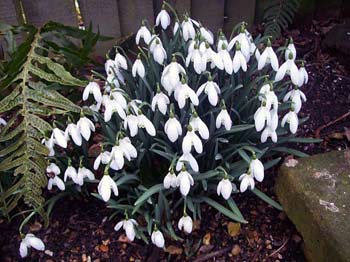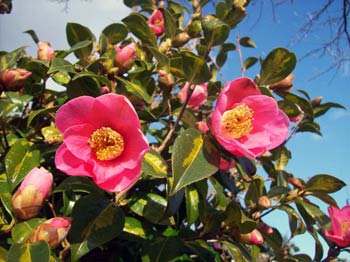 [
Following receipt of a photo of some snowdrops last week, readers were invited to send their shots of Spring flowers - these from the Elliott/Judd garden ! - Ed
]
7th - 13th February
A dry week, but still very cold especially in the mornings: Wednesday -2.9ºC, Thursday -3.1ºC, Friday
-5.2ºC, and it didn't really warm up during the day either. A little bit better on Saturday, the wind was still cold , but if you managed to find shelter and the sun came out, it was possible to detect warmth, but it will be a while yet before we don't need a coat !
31st January - 6th February
Well, the week started with a low of -3.3ºC on Monday, but by Friday it had warmed up, giving us a reasonably pleasant 11.3ºC. Also fairly good on Saturday but not as warm. Incidentally, Wells was much sunnier than here on Saturday. I've noticed before that the weather on the other side of the Mendips can be very different - either better or worse. Only 13mm of rain.
January
A total of 55.5mm of rain, so below average, but that doesn't count the amount of water that fell as snow.

18 mornings when temperatures were below zero; the lowest was -11.7ºC on the 7th. The first two weeks of January gave us some exeptionally cold weather with variable amounts of snow depending on where you were. Probably the worst weather since 1987 (although it took longer to clear then).

The rest of the month was the usual January weather, cold, damp and cloudy most of the time, with more frosty mornings from the 21st until the end of the month.

February's average rainfall over 10 years is 83mm, with a low of 37.5mm in 2009 and a high of 155.5mm in 2007 - our highest February rainfall for 18 years. The average over 20 years is 73mm, with a low of 11mm in '98 (when it only rained on 1 day). The difference is mainly due to 4 dry Februarys in 1991, '92, '93 and '98.

We often have some of our coldest weather this month with frequent frosts and it is the most likely month for snow, but it is the shortest month and when it's over we can start looking forward to spring.
24th - 30th January
At last some sunshine, at least in the mornings, what a difference it makes ! Back to quite hard frosts though, particularly in the early morning, and, in spite of the sunshine, temperatures not very high and soon dropping back after lunch:
Mon night/ Tues morning -3.2ºC
Friday night/ Sat morning -2.5ºC
Saturday night/ Sun morning 5.5ºC

These were the lowest temperatures during the last week., and with February starting on Monday I don't have much hope for warmer weather for a while yet.

Did anyone see the brilliant full moon on Saturday night ? It was spectacular and with no clouds in sight, almost as bright as daylight.
17th - 23rd January
Rain on 4 days, 26mm in total, and temperatures still low, dipping down to freezing in the early morning.
In spite of the bad weather we've had, the early snowdrops are fully out in our garden. I don't know what variety they are, but they are always in bloom in early January and as the snow melted, there they were.
10th - 16th January
Frost on Sunday, Monday ,Tuesday, and Wednesday, snow on Tuesday and Wednesday, and rain on Thursday , Friday and Saturday made quite a mix this week.
Temperatures - Sunday: -1.7ºC, Monday: - 0.7ºC, Tuesday: -1.2ºC, and Wednesday: -0.3ºC The snow was quite heavy, but as it became warmer it soon melted away, taking the rest of the first lot with it, apart from the odd bit in shady corners. 25mm of rain in 3 days and although it is warmer we'll need our coats for a while yet.
3rd - 9th January
No rain this week, snow instead. I don't have the equipment to measure snow, which is difficult to do accurately. Although media reporters, especially on television, seem to be able to do this with nothing more than a good imagination!
I can measure temperature though, using several electronic sensors which send signals back to a base unit in the porch, allowing us to check what's going on without having to step outside. These are the minimum temperatures for the last 7 days;

Sunday -7ºC
Monday -6.6ºC
Tuesday -9.6ºC
Wednesday 3.9ºC
Thursday -11.7ºC
Friday -11.1ºC
Saturday -3.3ºC

These are early morning readings, usually just as it's getting light, invariably this is when the lowest temperature occurs.

This system is very interesting as you can check anytime, and it is fascinating to see the variation over a period of time, as it doesn't move steadily as you would expect, but up and down - some times in a few minutes in little hops and jumps.
27th December- 2nd January
28mm of rain on Monday, Tuesday and Wednesday. Frost on Friday and Saturday -5.7ºC and -2.3ºC repectively, so quite a mix.
The total rain for December is 96.5mm, again slightly below average, but after the high of November we won't miss it. Rain on 16 days spread fairly evenly throughout the month and when it didn't rain, it froze (on 11 days) and I expect the cold to continue well into January.

January average rain is 107mm in the last 10 years and 114mm over the last 20, so not much difference.

2009

A fairly normal mix of rain cold wind and frost in January and February, a dry spell in March, but too early to be useful to gardeners. Some very nice sunny days in May and early June, low rainfall every month so far and we looked forward to the promised barbecue summer. Instead we got 217mm of rain in July when it rained on 24 days. It never seemed to get realy warm either. Some of the best weather this year was again in the Autumn, until November when it rained on 27 days giving us 239mm.

The total for 2009 is 1097mm which puts it in 10th place over the last 20 years, with 2000 being the wettest and 1996 the driest.

The driest month was September with 5 days of rain and the wettest was November.

So, we've started another year, and once again it will be too hot, too cold, too wet, too dry, too sunny or too dull for someone, somewhere because we're never all happy with the weather! (and what would we talk about otherwise)
[Once again we have much to thank Dawn for in keeping the record of our yearly experience of that great and perennial subject of conversation - Ed]