30th December - 5th January
Only 5mm of rain this week. Friday and Saturday were both wet days, but a rather gloomy week overall, with a lot of cloud. So in spite of being past the shortest day it isn't any lighter yet.
December
Total rainfall 153.5mm on 15 days, above the average this month. We started the month with 9 wet days followed by a dry cold spell of 2 weeks ending with a wet period again.

2007

Total rainfall 1,303mm. The wettest month was July with 218mm and we had a dry April with only 23mm. A total of 176 wet days altogether. Snow fell on the 8th of February, but by the time the children had come home from school, it had disappeared.

A long spell of cold with hard frosts in late January/early February and another spell in December. In spite of the early frosts we had the wettest February for at least 18 years.

Lovely dry warm weather in April and early May and a nice Autumn, but the middle of sunner very wet with flooding in many areas.

No damaging winds this year, a bit gusty at times and more wind from the North and East than we used to get.

So altogether, although not a very good year, it could have been worse. Hopefully 2008 will be better - more rain in April and less in July and August would suit me.
23rd - 29th December
What a change! 51mm of rain - 25mm on Monday mostly at night and 5mm on Christmas day, but as it fell fairly early on and cleared later, it wasn't too bad a day. Friday wasn't good with heavy showers by mid-morning and a cold strong wind which carried on through the night and into Saturday with more showers.
16th - 22nd December
A dry week, very similar to the week before with frost most nights, also some fog and a cold wind.The coldest night it went down to -3.7ºC. Although it didn't reach that until 6am, and on several days the temperature never rose above 3ºC or 4ºC.
9th - 15th December
Only 1 day's rain - 8mm on Sunday. Since then, dry and very cold with the wind mainly from the North and East. It wasn't bad at the beginning of the week, when we had some sunshine, but later in the week it became very cloudy and damp which made it feel colder than it actually was.
1st - 8th December
Well, certainly a wet week - 75.5mm of rain, with some every day. 28mm on Saturday which was the wettest day. We have had rain every day for the last 11 days , so we're due for a break now, but this is typical December weather for us so it will probably just rain ! [It's being so cheerful .... ! - Ed]
25th November - 1st December
A dry, chilly start to the week but getting wetter as the week progressed. Ending up with a really wet Friday and Saturday with very heavy prolonged showers and high winds.

November

Total rainfall was 90.5mm and rain fell on 14 days. A very changeable month, it started well with sunshine and lovely mild days with cold nights, but as the month went on the rain increased,the 17th - 20th were 4 really wet days giving us 50mm, after which it stayed changeable and showery until the end if the month finishing with 20mm on the 30th.

December is usually a wet month in this area with an average of 121mm of rain. In 1999 we had a high of 206.5mm and in 2001 a low of 30mm. 8 times in the last 10 years it has been over 100mm, I think 2001 was very unusual.

Frost and fog are fairly regular but the last December snow here was in 2000 and then not until the 27th. Christmas day has been dry 3 times in the last 10 years, but there is usually a dry spell sometime during the day except '98 and '97 when we had 26mm and 31mm repectively. So maybe we are due a dry, sunny day - we shall see!
18th - 24th November
43mm of rain on 5 days, so a rather wet week. Our dry November seems to have disappeared, but it is milder again, although the wind has been cold at times. The wind direction seems very changeable which is leading to our unsettled weather.
11th - 17th November
17mm of rain this week, and a cold one, starting with Sunday's 11mm of rain in the morning which was followed by a frost at night. The same on Tuesday when it went down to -3ºC and was bitterly cold all day.

The week remained cold and dry until Saturday when we had 11mm of rain, but it was milder. Typical November weather.
4th - 10th November
Only 5mm of rain altogether - there was more sunshine in the early part of the week, but cloudy mid- week with some more rain, then brightening again but colder with a chill wind.
27th October - 3rd November
19.5mm of rain brought the October total to 91mm, making it the 4th driest in the last 10 years - '97,'99 amd 2003 were all fairly dry with similar warm days and plenty of sunshine.

We've also had light winds so the weather systems are slow moving, meaning not much change. Further North there has been considerably more rain than here, but most of the cloud has moved over to the southeast before reaching us.

November has started fine and dry, some cloud but no rain so far. The average for this month is 118mm with a low of 65mm in 2001 when we didn't have much rain until the last week, and a high of 217.5mm when it rained on 23 days.

In 2005 it rained on the first 12 days and we then had frost every night until the 30th, very unusual for our area. So I make no predictions for this month, we'll just have to see what turns up ... and enjoy the sunshine while it lasts.
21st - 27th October
Only 2mm of rain, just a bit of drizzle really, but a lot af cloud making it rather dark and miserable at times.

Quite a variation in temperatures from one day to the next as well, depending mainly on wind direction which has been very changeable all week. Although we have had no frost in our garden yet, the allotments have had a touch, so the courgettes are over for another year. This is quite early for our area as we often don't get really low temperatures until after Christmas.
14th - 20th October
50mm of rain on Monday and Tuesday, but the weather improved later in the week, so hopefully a fine weekend. I hope it remains fine next week with the children home for half term.

It's well worth a visit to Westonbirt at this time of the year. The trees are looking lovely, but I would avoid Sundays if possible as it gets very crowded. The clocks go back on the 27th - 28th so its back to dark nights for a few months.
7th - 13th October
10.5mm of rain, and still lovely autumn weather. It is making up for the poor July we had this year. Only very light winds and no repeat (I hope) of the storm 20 years ago.when we lost so many trees.
A disaster at the time, but eventually all cleared up and new planting done. Looking at it with hindsight, it probably did more good than bad. Many old trees at the end of their lives are gone and have been replaced by young trees, and there is much more mixed woodland planted now, rather than large plantations of a single species like conifers.

It is a pity hedgerows were not replaced at the same time, as they have had the double blow of dutch elm disease and then the storm meaning there are now far fewer than there used to be.
30th September - 6th October
15mm of rain, some early in the week, but fine again by the weekend. Early mist and fog lasting well into the morning, and a lot of cloud which sometimes lasted all day.

Total September rainfall was 52mm. Rain fell on 10 days, mainly from the 16th onwards. The first couple of weeks were dry, but a lot of cloud - I can't remember having so much cloud and so little rain as we've had this last couple of months.

Also the wind tending to come from the North and East which is unusual, making it cold at times.

October average for rain is 139mm so it is usually a wet month with 191mm in 2000; the driest was 66mm in '97, but in 2004 we had rain on 24 days, so you can see it doesn't look very promising.

October starts the 6 months of rainfall which tops everything up for the following summer, but as Chew Valley and Blagdon are almost full, perhaps we won't have quite as much this year (sadly it doesn't work like that) although ground water still needs a top up.
23rd - 29th September
30mm of rain, but only on 3 days. There was 16mm on Sunday night - early Monday accompanied by some strong winds and another 9mm on Monday. Then Tuesday, Wednesday and Thursday were dry, fair and mild as well.

Almost the end of September - the time seems to fly by. Quite dark now in the evenings and at the end of October the clocks go back.
16th - 22nd September
14mm of rain this week, but it was spread over 5 days, so lots of cloud about even when it was dry. A lovely day on the 18th with plenty of sunshine, however, it was tending to be cooler as we moved towards the end of the week.
9th - 15th September
Another dry week, cloudy at times, but also some lovely warm days, particularly mid-week, but it got cooler towards the weekend. Lowest overnight temperature 4.8ºC, so pretty chilly !
2nd - 8th September
2mm of rain on the 2nd, otherwise another dry week with plenty of sunshine after the morning cloud had dissipated.

Very noticeable drop in temperature in the evenings now, but some lovely, calm early autumn days.

It's worth watering shrubs etc., planted in the spring as the soil is very dry now, and it's easy to forget them as the temperature cools down. Newly planted shrubs and trees need to keep going as long as possible to give them the best chance of getting through the winter.
26th August - 1st September
A dry week, giving us a total rainfall for August of 59mm so all round, not a bad month. Not as warm as some years - no heat wave, but plenty of sunshine for the school holidays, which I am sure parents much appreciated.

The average rainfall for September is 80mm with a high of 182mm in 2000, when it rained on 18 days, and a low of 20.5mm in '03 when it rained only on 4 days.

It makes a big difference if we have a warm and dry September as it makes the winter seem shorter, but warm Septembers seem to follow good summers, and this year has been a bit patchy to say the least - especially after such a wet July. The sea doesn't seem to be very warm either, according to my informants, and I do think that has a bearing on temperatures.
12th - 18th August
41mm of rain on 6 days out of the seven. Saturday was very unpleasant, drizzle, rain , and a very chill wind for August. In fact the temperature all week was not very high, unless you managed to find a sheltered corner out of the wind.

The last couple of years we've had fairly good weather, but this year we seem to have gone back to what they used to be like - it really felt like autumn yesterday.
5th - 11th August
Only 3mm of rain all week - and proper summer weather, warm sunshine and only light winds. According to my newspaper though, next week will not be so good, but we usually have a spell of bad weather in August so I'm sure it will settle towards the end of the month.(hopefully!)
30th July - 4th August
Only 13.5mm of rain this week, and at last some really nice weather, we've certainly waited long enough this summer.
July

Total rainfall of 218mm, which makes it the wettest month in the 18 years I've been at this address. The only other times we have gone over 200mm were December '93, January '95 and December '99.

More noteworthy is the fact that we had rain on 25 days (in '93 we had rain for 27 days). As there was also a large amount of cloud, temperatures have been lower for July too. So all in all, not a good month, although I have never seen the garden looking so green and fresh this late in the summer. Usually by now everything is looking a bit dry and faded, and we would all be struggling to keep up with the watering.

Luckily, not a lot of flooding in this area, only a few isolated incidents. Nothing like the disaster in other areas of the country.

August average rainfall is 97mm; the wettest was 179mm in '97 and the driest was 15mm in 2003 when it rained on only 7 days.
22nd - 29th July
Once again a very wet week with rain every day, a total of 68.5mm. The worst day was the 26th with 38mm causing flooding on most of our roads, and some properties as well.

This was made worse by blocked drains and the river being partially blocked just below Beam Bridge, but it had all subsided by the next day.
15th - 21st July
50.5mm of rain on 6 days, but the best day was Wednesday when, although we had a couple of downpours in the morning, the sun shone later making a beautiful day.

Yes, it did rain on St Swithin's day, so not much hope of any settled fine weather yet.
8th - 14th July
44mm of rain falling on all 7 days. Saturday was the nicest, with no rain until evening. With it being St Swithin's on Sunday, things don't bode well for the rest of the month, or even the rest of summer!

I know people have been saying we've never had weather like this before - Yes we have! 1960's, 70's and 80's all had odd summers when it was wet and cold in July and August, hopefully August will be better this year.
1st - 7th July
Well, July certainly started wet with 53mm of rain over 5 days. Friday and Saturday were the only dry days we had.

We also had very strong winds towards the end of the week. Saturday was the best day with plenty of sunshine, but to really feel the warmth you needed to be out of the wind. Hopefully better weather is coming, but there is no sign yet of a settled warm spell.
24th - 30th June
70mm of rain this week bringing our June total to 127.5mm, more than the average, but well below 1998's 163mm on 17 days. This year it rained on 18 days but smaller amounts. The heavy storms we've been having are usually of short duration and we have been lucky to have had less rain than many of our neighbours.
The average for July is 88mm, the wettest being 2001 with 119.5 and the driest 1999 with only 11mm.

July usually gives us at least one long dry spell at some point, so hopefully we'll get the same this year. We usually also get the warmest weather, but probably not this week which looks like a repeat of last week.
17th - 23rd June
41.5mm of rain on 6 days, with 28mm falling on the 19th. As usual when it rains, quite a lot cooler. We were certainly lucky on Saturday when the gardens were open, as there was only one light shower and a nice sunny afternoon.
10th - 16th June
16.5mm of rain - not a great deal as it mostly fell in heavy showers and we had a lot less here than other places. Last sunday for instance, Clevedon and Portishead had torrential rain in the late afternoon, which flooded roads and made it difficult to drive, but as we came over Wrington hill it petered out and Butts batch had none at all.

This showery weather seems set to continue and it is difficult to predict whether we'll have much rain or not.

Much cooler though towards the end of the week, last Sunday was very warm, well up into the 80's and it has gradually got cooler as the week has progressed.
2nd - 9th June
A dry week with plenty of sunshine and temperatures in the 80's at times.

All the roses are out around the village and the gardens are looking lovely. Not so good for veg though, as they need more water at surface level.

Young plants haven't got deep enough roots to reach the moisture lower down.
27th May - 2nd June
45mm of rain in all this week, with 28mm falling on Sunday - a really wet day. Then rain on Tuesday, Wednesday and Thursday - so a really dreary week, but getting better towards the weekend.
May

After a dry April, a wet May - only 1mm less than our wettest May with a total of 155.5mm the same as February.

Rain on 17 days with 12 consecutive wet days from the7th to the 18th with a nice dry spell at the beginning of the month and one at the end. In fact we have already had 511mm since January so should be due some fine weather.

June average is 75mm with a high of 163mm in '98 when it rained on 17 days and a low of 35mm in 2001 when it only rained on 8 days.

On the whole, June is usually a fairly good month weatherwise with our longest daylight hours of the year. So time to get outside while it is dry and enjoy it !
20th - 26th May
A nice warm week with plenty of sunshine and light winds.

Temperatures up in the 70's by early afternoon mid week. Dropping off a bit by Saturday though, when we had 2mm of rain - all we've had this week. But with the holiday ahead - Sunday and Monday don't look very hopeful !
13th - 19th May
35mm of rain this week, starting with 25mm on Sunday, when it rained all day - so very unpleasant for everyone.

A lot of cloud during most of the week but only a few showers, and warming up as the week went on. Some brisk winds at times which made it feel rather chilly.

Perhaps a drier week to come, although it doesn't look very promising.
6th - 12th May
Well, the wind did move round to the west late on Sunday - and it's rained every day since Monday ! The most came on Thursday - 30mm - giving a total of 74mm for the week, almost 3 inches in old money.

It's been much colder as well, especially at night, like going from summer to autumn, but I expect it will soon warm up again.
29th April - 5th May
Another dry week, but with slightly lower temperatures as the wind was coming from the East . I don't think we will have any rain until it moves round to the West.
April

Total rainfall 23mm - not the driest we've had but certainly the warmest, although 1997 also produced some high temperatures. We've had plenty of sunshine and night time temperatures have been good as well.

It shows how much we are affected by wind direction: N/E winds rarely give us much rain and there hasn't been such a long period of N/E winds in recent years. The only rain was when the wind swung round to the West for a couple of days.

May
Average rainfall is 33mm, the highest was last year with 156.5mm and the lowest 36mm in 2001. Last year it rained from the 17th - 29th plus odd days earlier in the month. Checking through my records we have quite often had a prolonged period of wet weather starting in mid May and lasting for a week or two, hopefully not this year!

I do try to avoid planning anything during Wimbledon, not because I want to watch it , but we often have bad weather while it is on.
22nd - 28th April
23mm of rain at the beginning of the week. Nothing since, but plenty of sunshine although the wind went round to the East again, which meant it had a bit of an edge to it.
Everyone seems to be enjoying all the fine weather and the very wet February and cold March are forgotten.
The birds are having a hard time though - if you don't have a bird bath, it is worth getting a large plastic plant saucer and putting it somewhere that you can see it.. Water is a bigger attraction than food during dry spells and ours is in almost constant use. One of our baby robins was taking his first bath this morning and two or three starlings bathing can empty it in no time!
8th - 21st April
Another two dry weeks, what a treat - unless you are a gardener and then you would probably like some rain.

The last time we had such a dry spell in April was in 2003, when it was dry for 22 days. But in 1997 it was dry from the 9th of March until the 24th of April, 44 days in all.

I don't think we are in for a repeat of that and we may get some rain next week.
1st - 7th April
A dry week with plenty of sunshine once the early mist has gone. The wind is still coming from the East-North-East though, so still a bit chilly out of the sun.

I don't expect any rain until the wind goes round to the West again, and then it should be warmer at night as well - we've had a frost in low lying areas several times this week.
25th - 31st March
Only 3mm of rain this week, but still with the same cold East wind. Some lovely sunshine , but you need to find somewhere sheltered to appreciate it.

March
Slightly below average rainfall all told, mostly falling in the first week, but on the whole a very cold month mainly because of the North and East winds which kept the temperature down and the rain away. The soil is now quite dry on the surface which makes it difficult for seeds to germinate although there is plenty of moisture lower down.

This last winter's rainfall - October to March, was the 5th wettest since 1992, in spite of the drought forecasts. There should be no water shortages this year in our area, but it is worthwile keeping the soil covered with mulches of any kind to keep in as much moisture as possible.

April
Average rainfall is 91mm with a high of 183mm in 2000, and a low of 16mm in 1997 when it only rained on 3 days. Usually April rainfall is more likely to be the odd days rain, interspersed with dry spells, than prolonged spells that last several days.

But don't put plants out too early, we can still have the odd frost well into the month, so be prepared to give them protection. - In 1999 it snowed on the 12th and 13th ! ! !
18th - 24th March
Well, the week started with hail, snow, sleet and gales, so it could only get better - and it did , but not a lot.

Only 10.5 mm of rain but with the wind coming from the N/E it was cold and bleak with a lot of cloud. The temperature fell to -2ºC on a couple of mornings, so quite a few Magnolias, and Camellias were damaged.

With the clocks changing to Summer time and Easter in less than 2 weeks, we really should be getting some warmer weather soon.
11th - 17th March
Only 6mm of rain this week with a bitter wind at times. Again a bad Saturday for temperature, especially if you were out in the wind.

I see we are threatened with bad weather next week; last year we had snow on the 12th of March and the severest frosts often occur during this month. Country people used to call it a 'blackthorn winter', as the blackthorn flowering often coincided with a spell of cold weather, and the blackthorn is out now.
4th - 10th March
39mm of rain this weekm starting with 16mm on Sunday 4th when it rained all day.
We had to wait until Friday before getting a couple of dry days, although it was still quite windy and cold.
Chew Valley, Blagdon and Axbridge reservoirs are all full, so once again we shouldn't have any real shortages this year.
25th February - 3rd March
22.5mm of rain on 5 days this week., which ended with a lovely fine day on Saturday
(the wind still had a cold bite to it though!). I'm sure the sunshine was much appreciated.

February review
The wettest February for at least 18 years -155.5mm, with rain on 21 days from the 7th to the 28th - and one lovely day on the 14th.

The first 6 days of the month were frosty, and very bleak and cold, with N/E winds. So let's put all that behind us and hope for a better March.

March prospect
The average rainfall for March is 71mm, with a high of 138mm in 2001 and a low of 25mm in 1997 when there were only 6 wet days. Rainfall this month tends to be heavier, but there should be a lot more dry days in between.

Don't forget though, that dry fine weather at this time of the year often means frosty nights, and last year we had snow on the 12th of the month!

18th - 24th February
50.5mm of rain, mostly from Wednesday onwards, with Friday being the wettest day with 18mm. The weather seems to be settled into a pattern now, of showers interspersed with sunshine which could continue for some time to come - certainly into March which is now only a few days away.
11th - 17th February
A rather wet week again with rain on 6 days, but Wednesday was lovely. It started cloudy but cleared later in the morning to give some really much needed sunshine right through the afternoon.

No frost this week, but high winds later on Thursday.
4th - 10th February
47mm of rain, although some fell as wet snow and sleet on the 8th, and hail on the 9th. No proper snow for us I'm afraid, much to the young people's disappointment Our village seems to be avoiding all the extremes that the weather visits on other areas.

Still very cold though - a high that reached only 2ºC on Friday meant a very miserable day when it was combined with continuous rain and an East wind. The wind has now gone round to the West so it should be a bit milder next week hopefully.
28th January - 3rd February
A dry week with frost overnight in the latter part of the week. Again very cold winds but at least we have had some sunshine which cheered everyone up.
January had slightly over the average rainfall with 115.5mm on 21 days, also some very high winds especially on the 18th with some tiles off and trees down in our area, but no major damage, so we again fared better than others.

The average for January is 83mm with a high of 155mm in 2002 and a low of 11mm in '98.

Historically February used to be considered a wet month especially further north, but this area is usually relatively dry, although there is probably more frost than any other month. Also we are more likely to see snow than at any other time in the winter.
21st - 27th January
Only 10mm of rain this week. For a change there were freezing conditions on Tuesday, Wednesday and Thursday with the wind making it feel even colder than it was.

Getting milder on Friday amd quite pleasant on Saturday with temperatures reaching 10ºC and a very light SW wind.
14th - 20th January
6 days rain - 33.5mm in all - but a lovely day on the 14th - even some sunshine.
I haven't seen so many people out walking since last summer. A good job we all got out and enjoyed it as Monday was back to the usual cloud and drizzle.

Very high winds on Thursday again, but I haven't seen much damage in our area, a few tiles and the odd branch. So we have certainly fared better than some.
7th - 13th January
Rain on the last 7 days again - totalled 40mm this week and flooding in the field by the river. The Langford brook over topped its banks for the first time this winter, but it all soon subsided.
Very high winds on Thursday snapped my windsock pole which I rely on for wind direction, so I wasn't best pleased. One good thing about the continual cloudy, damp weather, is that my early flowering camellias have never looked better - it is the perfect weather conditions for them. Photos by Dawn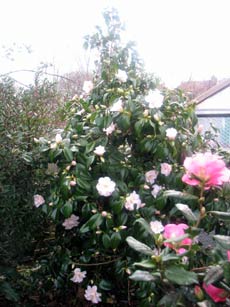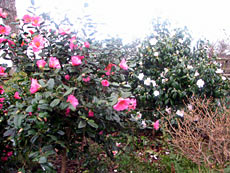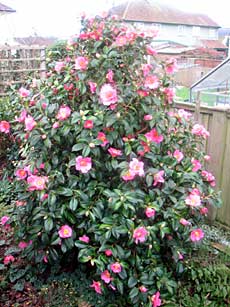 31st December - 6th January
38.5mm of rain, falling on the last 7 days. Not a cheerful start to the new year, and looking at the forecasts there could be more of the same to follow.
Review of 2006
The total rainfall for 2006 was 1073mm which is about average for our area.
The wettest month was May, and the driest was April. It rained on 168 days which is slightly more than usual. October and November tied for the most wet days, with 21 each, and July had the least with 7.

Not a very cheerful month, with rain on 19 days and fog on more, giving the darkest gloomiest month I can remember with hardly any sun at all. Some strong winds at times, but not enough to cause any problems. Total rainfall 117.5mm, in spite of the almost continuous cloud cover not that much.
~ ~ ~ ~ ~

December
The year started with cloud and some rain until the 21st of January, then it was frosty through the rest of the month and half of February - very cold weather. The only snow was on 12th March and that didn't last, otherwise spring was fairly normal.

Long fine spells in July and early August before turning wet. A nice mild September again, as in 2005 and it stayed mild through October although wet.

The most notable thing this year was the amount of cloud, day after day, giving us a very gloomy time. Everyone I talk to would like to see the sun a bit more often.