---
Jane Robson - Boston, UK - 16th March


I spent my early childhood visiting my grandfather (George Brunker). I remember the Parsleys and the Lanes. My Grandfather married his 3rd wife, Elsie Brunker (née Lane). Used to walk at Red Hill and in Burrington Combe. I remember the Dring [Church Walk] and the Rec! Three relatives buried in Wrington..
---
Mick Wainwright - Seaton, Devon - 10th January

I saw Tracy at the church office today but she could add no more detail other than to confirm location of the grave for H Swete who died in 1912.

I have started a family tree on< ancestry.co.uk> as it seems the only way to put down details and more to the point it provides hints and links to other people researching his family. I hasten to add I am not family.

I have searched the name in many variations through the britishnewspaperarchives sites and I am amazed at what is available about Swete and his working life. In the Worcester Chronicle 13th December 1879 Swete was giving a lecture and was asked by a family where illness prevailed. Two doctors had been asked for a diagnosis prior to this. Dr Swete visited their house and saw what sounds like a gawdy wallpaper. As the Worcester City and County analyst, he checked the wallpaper. Four and one half pounds of arsenic were found. It was stripped away and the family became well.

Dr Swete seems to have married for the second time in 1907 in Christchurch, Hampshire, and therefore probably lived in Seaton for only a short time. One of his sons died in India.
---
Mick Wainwright - Seaton, Devon - 6th January
I have this morning been to St Gregory's Churchyard, Colyford Road, Seaton where I met Mary Scott, a fellow resident of Langford House, Seaton. Mary is heavily involved in the church and was able to show me the Burial register which indeed lists H Swete as being buried at the churchyard in 1912 (see register entry photo).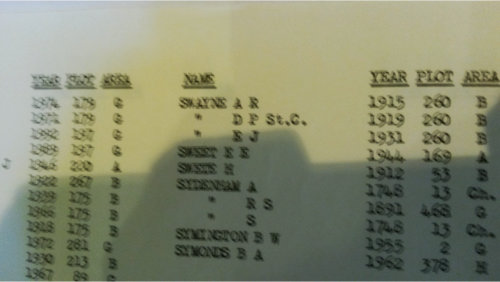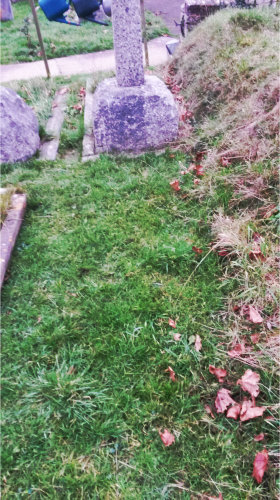 Mary showed me the actual grave site but unfortunately there is no gravestone. We looked at an area where fallen headstones have been placed, but again no sign. I have taken a photo of the actual grave which is just grassed over (rather sad for a once eminent physician). The picture of the grave is actually taken from behind another grave.

I will be going to the church again on Tuesday to speak to a lady called Tracy who may know a little more?

Interesting development.
---
Mick Wainwright - Seaton, Devon - 6th January
Absolutely no objections at all. I am so curious about Dr Swete, the more knowledge the better. I did think that he had brought the name Langford House to Seaton when he moved here. (date unknown) but I see from the 1891 census that Langford House had a number of occupants none of which were Swetes.
---
Mick Wainwright - Seaton, Devon - 4th January
Thank you for that Richard. After a considerable amount of googling and use of ancestry.co.uk and britishnewspapersarchives.co.uk had already led me to the wrington archives site, but I thank you nevertherless.

That is interesting about your Langford House, and at the moment the earliest record of our Langford House is a newpaper article of 1911 seeking hired help. I wonder whether Dr Swete brought the name with him? An earlier note just shows number 44 Fore St i.e missing the Langford House.

Do you know where he is buried? On Friday morning I am going to have a look at the local burial records in Seaton's St Gregory's church to see if he is buried there.

There are one or two pieces of info to add to his history but for the time being I need to be sure about details'
-------------------------------------------------------------------------------------------------------------------------------------------------------------------------------
Reply from Ed:
This is becoming even more interesting !

Would you have any objection if I copy our correspondence to the Schmoose page - the first entry for 2017 ? Our local historians will be most interested. We have a local history society (see Organisations index) and one local historian, John Gowar, in particular, who has written a number of articles (see History index) and is, in fact, giving the January talk on Langford.
Richard
---
Mick Wainwright - Seaton, Devon - 4th January
I am researching Dr Edward Horatio Walker Sweet, who I believe was born in Wrington. He was a well known doctor who died at the place where I live, being Langford House, Fore St, Seaton, Devon, on 4th Dec 1912. He apparently could have been known as Horace Sweet and was the founder of the Cottage Hospital system.

Furthermore he had a famous son Edward Lyall Swete, an actor on the London stage circuit. The son appeared on stage alongside George Bernard Shaw and Sybil Thorndike. Furthermore, Dr Swete treated an initial suspect in the Jack the Ripper enquiry, one JWW Saunders.

Just wondering if you had any information about Dr Swete ?
-------------------------------------------------------------------------------------------------------------------------------------------------------------------------------
Reply from Ed:
I think you may find the Village Archive index interesting <https://wringtonsomerset.org.uk/archive/archindx.htm>

especially <https://wringtonsomerset.org.uk/archive/swete/swete01.html>

Then there's the History index <https://wringtonsomerset.org.uk/history/historyindex.html>

Perhaps you'd be interested in writing a piece on your researches to add to these Wrington website archives ?
I'd be most grateful.

Incidentally, Langford House in our neighbouring village is the home of the Bristol U. Vet School !

Richard
---