---
Mike Pringle - Chorley, Lancs, 23rd December

[I was] born in Bristol '53. Lived at White Cottage, Aldwick until 1970 with grandparents Henry and Vi Hargraves. Went to Redhill Primary school. Found mention of many familiar names - Roy and Richard Marshal, Dr Bell and many others. Pleased to see Amors still there. I can remember them delivering weekly to outlying places such as ours. The order would be telephoned through over the previous week.

---
Keith Burnette - Mebane, North Carolina, USA, 15th November


[I am doing] ancestor research for Thomas Paschall or Pascall born 1583.

---
Trevor Wedlake - Wrington, 10th August [as dictated to the Ed. because Trevor doesn't do computing !]

Thanks to all those friends and acquaintances - from New Zealand to Bristol - who kindly sent me gifts, cards and good wishes to mark my 'special day' in July. I would also like to confirm that the late Perce Hancock was right all along: "If thee's 'ang about long enough, it'll catch up with thee"

---
Bill Crook - Hamilton, New Zealand, 25th July

My brother, Alistair, and I extend hearty good wishes to Trevor Wedlake on reaching his ninetieth birthday. Trevor's contributions , both participating in and recording of the village life, is probably unmatched. We thank him for his efforts much valued by expats like ourselves. In the 50's Alistair knew Trevor's dad, Percy, very well. He remembers Percy being very proud of Trevor for planting an oak tree in their garden in Kings Road. We would both like to know if the tree is still there ?

Thank you Trevor. Hope you had a great day.
Bill and Alistair Crook.
Hamilton NZ
Wellington NZ.

---
Jean Mather (née Wedlake) - Glastonbury,19th July

Trevor is 90 on Sunday 26th July!


As a family we are proud of him and hope that he has many more years to regale us all with his memories and writings.

---
Billy Rogers - New Tredegar, 15th May

My grandmother was born in Wrington in 1874, her name was Elizabeth Ann Chard. They lived in the cottages at the top of School Road. I collect old postcards, this is a very rare postcard and you can see the cottages where my grand mother and her family once lived. I bought the postcards from north Wales, and the one of the church came from Portsmouth. the photo must have been taken around 1900 and was posted in 1912.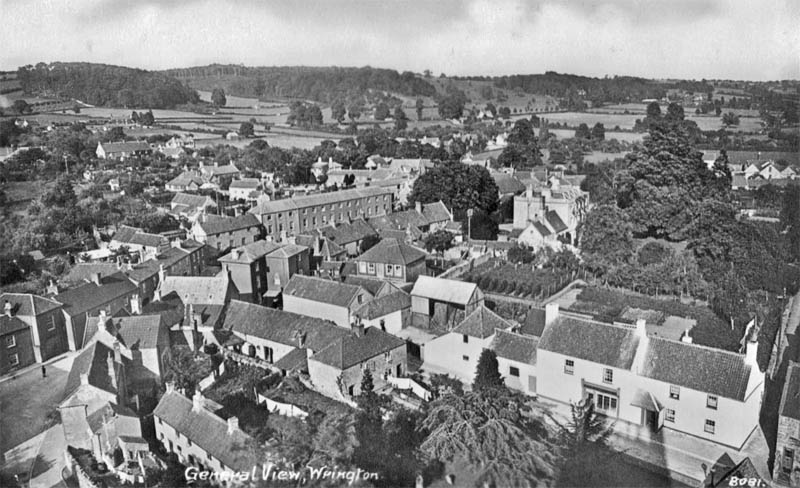 [See more of Billy's postcards in the Archive: <http://www.wrington.net/archive/2015/billyrogerspostcards>]

---
Amelia Heyward - 8th May

My name is Amelia Heyward, née Bathard. My father, Roy is keen to make contact with Frank Bowen, evacuee who stayed with his grandparents at Clock House. Alfred Joseph (I was A J also, and Amelia after my great grandmother, who you knew as Amy). We saw on the website that your wife recently passed away, and Roy sends his condolences.


Roy thought you might like to know Clock House remains in the family, and so Wrington still features largely in his life. We, his children, often joke that THE CENTRE OF THE UNIVERSE IS WRINGTON!!! He has often spoken of you and your brother who I believe died many years ago.

Roy's brother Philip Bathard died 2 years ago; dad and my late mum, Elizabeth, looked after him all his life. I hope you get this message and might like to reply if you are able.

---
Susan McCabe -
12th April [Susan contacted David Ashley via the website]


Dear David,
My name is Susan McCabe and I believe we are closely related. My paternal Great Great Grandfather is John Ashley who died in Salford in 1928 and my Great Grandmother is Mary Elizabeth Ashley. I know that she was born in Penarth, South Wales and that her family moved around a great deal. When the family were living in Newcastle under Lyme, she married my Great Grandfather, Frederick William Edge and they moved to Salford, probably around 1908. My Grandmother Annie Evelyn Edge was born in 1908 in Salford.

I have been researching my family tree for some time and I'm very interested in the Ashley family. I have researched back to Robert Ashley who died in 1885 but wasn't aware that he had drowned. I believe he married twice and his first wife was Harriet Woolf who died in 1846. Perhaps you can confirm this for me.

I would be very interested in the article you have on the death of Robert Ashley and any other information that you can share. I have two photographs of Mary Elizabeth Ashley that I can share with you. She has been described to me as having Italian looks.

I believe my Grandmother, Annie Evelyn Edge used to visit her relatives in Newcastle under Lyme. Did you know her? Also I have three photographs of family members from Newcastle under Lyme, but am unable to identify who they are. Perhaps you would be able to help with this as well.

I would be happy to share my contact details with you and look forward to hearing from you soon.

Kindest regards

---
David Ashley - Stoke on Trent, 27th March

Hello John,
My name is David Ashley and we share a 3x Grandfather named Robert Ashley, born in 1795 in Wrington and died on the 05th of June 1885 aged 89 years. he died by drowning (suicide). I also have a newspaper article which reports his death.

I have been researching my family tree for 2 years or so. My Great Grandfather John Ashley was born in Wrington in 1853. His father was also named John b 1825, he is buried in Wrington churchyard with his wife Elizabeth Towell. My Great Grandfather left Wrington circa 1870 and, after much travelling around the North West, he eventually settled in Salford and died there in 1928. He was a Docks Timekeeper.

My Grandfather George Cox Ashley settled in Newcastle Under Lyme after spending a brief time lodging there with his parents. They left George in N- U- L and they continued on to Salford for work reasons. He married a local girl named Ellen Bagnall ( a very old Staffordshire family) .

There are quite a few people on the Ancestry website researching our family, me included. I have been in contact with another Ashley researcher named Paul Gibbs who also lives in Bath. Richard Thorn very kindly passed your name on to me as we are both fellow Ashley researchers. I have quite a few newspaper articles relating to the Ashleys in Wrington and Bristol and also the descendants of James Ashley 1805 - i.e Ruscombe Washer Ashley, Boot Manufacturer etc.

I also have articles regarding the Spaldings, and other Ashleys in Wrington and beyond. I live in Stoke on Trent, and I am a retired University Grounds Manager. Please feel free to get in touch,

Best Wishes,
David A Ashley.
---
John Ashley - Bath. 26th March
I have just spent over an hour talking to the Jane Smith pictured in the link you sent me. She is my second cousin and I had no idea that she existed until tonight. I have already found out a good deal about my family history and the connection with Wrington and I'm looking forward to discovering more.

Thanks again for your help.
---
Jane Smith - 26th March
Wow two family relatives in a few months.


I have contacted Paul the first one and he is the Grandson of my father's adopted brother who the family lost touch with.. as families can!!


John today I have called and he is speaking to me later, He is a second cousin to me I think so what an amazing turn up!!


They both live near each other in Bath and I will put them together! I hope to meet up with them soon.
---
John Ashley - Bath. 25th March
I decided recently to look into my family history and I found your website by chance. My father was Kenneth Alma Ashley, younger brother of Alroy Arthur Ashley. Alroy died in 1946. My father told us that he died from lung problems caused by oil. He was serving on a ship that was torpedoed. He is buried in Wrington.

My paternal grandfather was Arthur Henry Ashley, also buried in Wrington. My mother tells me the family was related to the Spalding family but she cannot remember any details. I seem to remember seeing a radio and TV shop in the village when I was a child with that name on it.

One of your contributors in 2006, "Jeff Parsons (Thorne)", put up a post about the Ashley family. I would like to make contact with him if you still have his address. I don't know if one of my family has already tried to contact him. I'm one of eight children and I have not yet discussed this with the rest of the family.

My paternal grandfather spent his last few years in a cottage in Station Road next door to what was the shunting yard. I remember the level crossing just outside and seeing a steam engine shunting trucks. He was looked after by one of his sisters who I knew only as Aunt Nell.


I would be grateful if you would pass on this email to Mr Parsons. Thank you

[This was forwarded to other members of the Ashley family who had previously contacted the website - see results above Ed]
---
Bill Crook - Hamilton, New Zealand, 1st February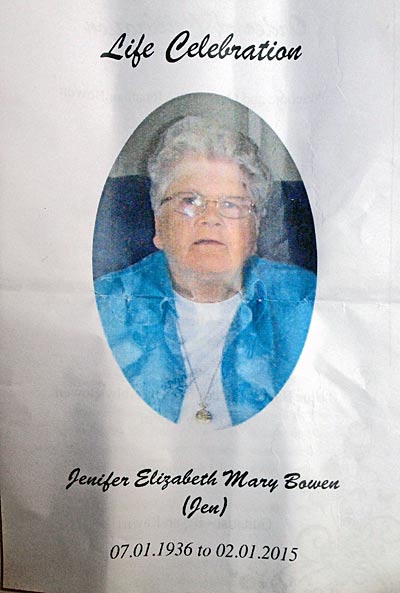 The death occurred at Matamata, New Zealand on 2nd January, 2015 of Jenifer Elizabeth Mary Bowen. Jen was raised in Shipham and married Frank Bowen of Wrington in 1957.

Jen survived the 1973 Swiss air disaster along with her eldest son Jonathon. Being a survivor proved to be a heavy cross and so in 1975 the family emigrated to New Zealand.

Jen devoted her life to the welfare of others and to the community in which she lived. Her selflessness was unmatched and at a memorial service held on 29th January, 2015 the Mayoress of Matamata said "If our community was full of Jen Bowens we could achieve anything". A sentiment shared by the large gathering.

Jen was 79 years of age and leaves behind husband Frank and sons Jonathon, Michael, David and their families.

[Note: this notice is sent with permission from Jonathon, Frank and Jen's eldest son.]
---
Ralph Mellett - Yeovil, Somerset, 28th January

[I was] born 25/3/49 at 9 Lawrence Road, lived there for 21 years, played football for village (see team photo 1966, third from left back row) was also a fireman for about three years. [My] Mum, Mrs. Olive Mellett, passed away two years ago.

Hi to all old friends, still look for village football results in the paper. Many happy memories.

---
John Corfield
6th January (see previous correspondence in the
Archive
)
I'm going through and scanning some old family photographs and came across the attached picture. Neither I nor my two sisters recognise the people in it so we think it might well be a Corfield family group dating back possibly to before my father was born - but this is guesswork. I wondered whether you might consider using the website to ask if anyone recognises the people?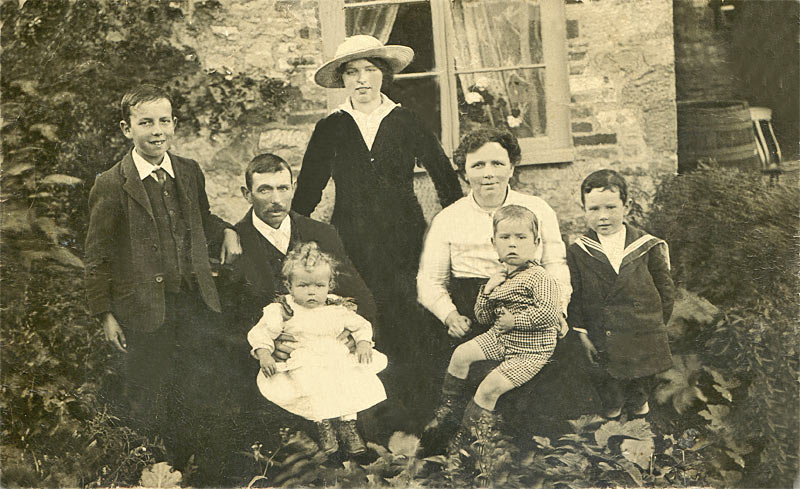 ---
Anthony Waite - Llangoed, Anglesey, 10th January


[I was] researching Great grandfather's history (William Waite) d. Shepton Mallet 1926 after farming in Wrington.
---