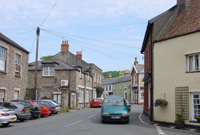 11.30am

THE CHAPEL (United Reformed Church) - Wrington

We held an Elders Day on this day, our 10 elders/ leaders of the church met
in Cheddar for Prayer and teaching.

We shared together about one another's strengths, including may I say tears
of joy and honesty as we shared together, we considered what type of leader
we were, visionary, or practical etc. We found that we had all sorts of
different styles of leadership. We then had a lovely lunch at edelweiss in
Cheddar.

In the afternoon we looked at different things that made for a healthy
church. We even asked whether we were a "biotic" church or a mechanical
church. We were meant to be "biotic" that is we were meant to be like the
grass that God grows all by itself. Not a machine that we build. We found we
were quite healthy but we were not allowing God to use all the gifts of all
the different people who come and worship at Wrington Chapel. So thinking
about that we have to let God work on us and with us.

All in all although it may sound a bit whacky we had a great day and we
felt that we had a clearer idea of how we need to "be church" for the
future. It was good to be together.


RUTH & ROY ROBSON - South Africa


On the day we were on holiday in South Africa, staying for three weeks at Plettenberg Bay on the Garden Route. On that day we were on an excursion to Botlierskop Game Farm. It was a fairly early start with breakfast at 6.30 am and the coach left the hotel prompt at 7.30.


We arrived at the reserve in time for coffee and the chef was baking scones on an open fire on the terrace, the view from there was spectacular, so we all sat outside to admire it and drink our coffee, eating our freshly baked scones with jam & cream.

After this we all climbed into the "Safari buses" to begin our tour. The countryside was very hilly with deep ruts after the recent heavy rains, so we had to hang on tight at times as we slid and bounced all over the place.
But we saw Rhinos, Giraffes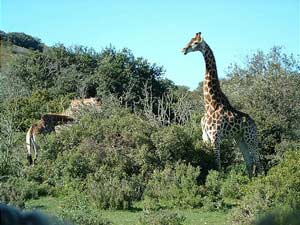 (including two babies); Blue Wildebeest, Lions, Bontebuck, Waterbuck, Zebra, rare Black Impala, Sable, and many many more. After our three hour Ooh-ing & Ah-ing tour, and taking loads of photos (Roy took 350 photos in the three weeks) we went back to the restaurant where we had a lovely buffet lunch and still enjoying the scenery, the chairs were made of stout leather and the light shades were ostrich eggs with small holes punched in them.

After lunch we then went to another park where there were elephants which had been rescued from the Krugar National Park when they were undertaking a cull. We could buy buckets of fruit and vegetables and feed them, the keepers keeping an eye on them (and us). One of the keepers had an electric probe but the rest had just a probe to control them if necessary but the elephants didn't know who had what. It was a very special time to be so close to these giant creatures who appeared so gentle but have to be treated with the greatest care and respect. It was then time for the return journey to our hotel as the sun set, silhouetting the Outeniqua Mountains.

A perfect end to a superb day. Sorry we couldn't find a computer on the trip.
When we arrived back to Wrington our computer was still at the repairers so it has taken us time to catch up.

Best wishes to every-one, there are some superb letters on the web page, and a special thanks to Richard for all the hard work organising " WRINGTON's SPECIAL DAY"


NINA & JOHN CASSIDY - Wrington
We were travelling by way of M5 & M6 to Keswick for a holiday in the Lake District.

PHILIP & JANET ALIBAND - Heidelberg, Germany

Janet and I spent the day leisurely shopping in Heidelberg (thankfully shops in Germany no longer shut their doors at midday), then we had a walk along the Neckar. The weather was very similar to the day of our wedding.

Thank you so much for putting the wedding pictures on the website and thanks to Malcolm Herrstein and my Dad for such wonderful pictures of a memorable day.

Best regards


SIMON ALIBAND - Shanghai, China

I spent the 21st June with the management staff in my office at a training workshop held at a hotel in the suburbs of Shanghai, not so far from the new Transrapid maglev line and the new Pudong airport, looking at motivating ourselves and motivating our staff.

I run the Shanghai office for the Otto group of companies, which is based in Hamburg, but is represented in markets worldwide. Grattan and Freemans are Otto group companies for instance. We source garments, bedlinen, electrical items, furniture and all manner of consumer goods throughout China for the group and follow up on placed orders to ensure that the finished product is delivered to our customers on time and in a proper quality.

At present we have 104 staff, but the numbers seem to go up steadily to keep up with the increased interest shown in the Chinese market. We are very international here with staff members from China, Hongkong, Germany, France and South Africa. The days are spent in a hectic mixture of English, German, Chinese and French, so much so that it's nice to spend time in the UK just to practise my mother tongue !

At least hopefully I don't yet speak it with a Chinese accent.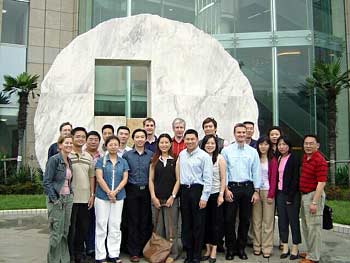 Here is a photo of me (in the centre with the red shirt) and my staff at the training.

I have been living in Shanghai for the past 16 years. I lived in Wrington from 1968 to 1982 and like getting back to see mum and dad, but also to hear birdsong, church bells and find a quiet permanency which in the ever-changing cityscape of modern Shanghai is needed once in a while.

All the best from China
KEN & AUDREY STOTT - Wrington

21 June 2003

We came to Wrington in April 1962 as all but newly-weds, to what we thought
would be a good little starter home, conveniently near the Long Ashton
Research Station where Ken worked. Two or so extensions and three children
later and we are still here, both retired (Audrey from PE teaching), with
Rebecca in NZ, Paul in Weybridge and Andrea back in Bristol.

So on Saturday 21 June, after attending to the ever-present post, we drove
reluctantly into Bristol to see what inspiration we might gain from the
Bristol Bathroom Centre, a store and display site now left somewhat marooned
by the new hotel and penthouse developments on the harbour side.

A great display of suites, tiles, showers etc met us, but altogether too grand for
our new bathroom in our holiday house in Bude, Cornwall. Off to Zetland
road tile shop to return some trial tiles they lent and to check up on
others. Up Gloucester Rd to another tile shop to compare wares and to see if
"Odd-bins" had this special offer of red wine that Audrey had noticed in
some advertisement. All gone, unfortunately.

Since we were near Montpellier, we thought we would drop in on Andrea and
John, and baby Sydney, and see how the kitchen alterations were going. Progressing nicely , thank you.

Continuing the trail of the red wine offer we made for Whiteladies Rd, where we
were successful. Being up in the Clifton Area we thought we would just call on
friends to see how the wife was getting on after her operation. Short stop to
learn of good progress and on the road home via Bedminster to see what the
newly taken over "Do ­It ­All ", by "Wickes" might offer in the way of showers.
Sadly nothing , because Wickes were still in the process of taking over the store
and the clearance bargains were not particularly tempting. So off to one
more tile shop in Bedminster remembered from the past, only to find it gone.

Audrey rarely gets me shopping, but we thought we might as well make a day
of it, so we went to Cadbury Garden Centre to replenish our compost supplies
and picked up a few bright Sweet Williams and Verbenas to cheer up a dull
patch in the garden. We got back about 3.30 and had a bit of lunch. Bit of
a rest then before cutting the lawn and in for our meal at about 7.30.

Audrey organised a bit of washing and then began to sort out the clothes she
intended to take on holiday the following day. Ken had decided he could do
it all on the morrow, so planted and watered-in the plants and spent the
rest of the evening, sorting out unsolicited E mail spam , completing one
or two South West Region sporting commitments and finally got to bed about
mid-night. A very different sort of day for us to go shopping together !


PAUL TEMPLE (former Wrington School Head) & JAYNE WILLIAM - Luhimba, Tanzania

Apologies for lateness. Access to e-mail is limited. Below is brief description of our day on 21 June in Luhimba -

Woke at 6am to the sound of the cock crowing in the spare bedroom! (Is this today's lunch?). Glanced out of the window to see the night guard washing our car with Lifebuoy soap, gun still hanging from his shoulder.

Shared breakfast with a throng of happy villagers who had invited themselves along to my house. Then had a day with Mr Mbelle, the secondary Head.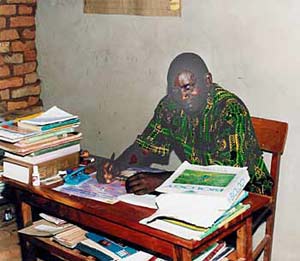 Progress made in past 6 months has been fantastic - current plans include3 new classrooms, dormitory, head's house and a well. 386 students now on roll.

Had meeting with the teaching staff, then visited the brickmaking sites around the school. Each of the 6 ward villages has been allocated 100,000 bricks each to produce for the new buildings.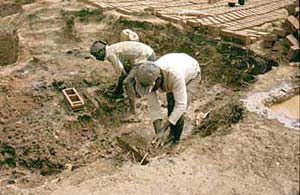 We also saw the new school gardens where the sudents grow produce for their meals.

The day finished with a very lively football match which went on well into darkness.

Finally, we had dinner with another self-invited set of smiling faces, serenaded throughout in Swahili by Happy Ntini and Joyce Daniel.

A very enjoyable day in one of the nicest places in the world.




NEAL & ANGELA CROWE - Heighington, Lincolnshire

Wrington World Day

Neal returned from Heslingborg in South Sweden where he works for a Swedish company - Nederman, in the morning to our new home in Heighington.
Temperature 18C and variable.


Angela spent the day with the Lincolnshire Police Authority on which she is a magistrate member.


Quiet dinner at home. Fond memories of Wrington and The Old Bakehouse in
the Triangle..



GEORGE CROOK - Auckland, New Zealand


"Last of the Summer Wine"


This old disused brickworks building we use as a Devonport Community Workshop. Run by volunteers, we have an impressive range of plant & power tools, (welding, lathes, milling machine, planers, radial arm & bandsaws etc etc. Any DIY enthusiast is welcome to come in & use the equipment under our supervision. Pictured are volunteers Pat (Maori ex Rotorua), John (ex Belfast), George (exWrington) & Ben (ex Glasgow)

Few days before 21/6 we walked to the summit of Mt Victoria here in Devonport to commemorate the ascent of Mt Everest 50 years ago (I remember day getting this news
in the back of Angus Spalding's shop)

Local mayor is giving the kids the inspirational message that Sir Ed Hillary, a beekeeper's son achieved great things & so can they if they really want to.

In the background is the extinct volcano Rangitoto, an Auckland icon.
Note long winter shadows