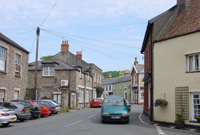 11.30am

YVONNE SPRATT (née Chard) - MAUKU, Pukekohe, Auckland New Zealand


Lived at School Rd from 1954-1972 then Butts Batch from 1979-1986

Hadn't realised there are so many 'New Zealand' Wringtonians and have to agree
with Rosie Morton that we should hold our own celebrations for WWD.


By the way Rosie you are moving just down the road from us (well almost) so
when you get to Waiuku give us a call!!!

Mauku said Mow -coo has a few meanings 'No white clay' and 'small ground fern'
Pukekohe said Pook-ee-ko-ee means 'tree on the hill'
Pukekohe is about the same size as Nailsea but the outskirts are full of Market
Gardens that grow Potatoes and Onions. Pukekohe is 10 minutes drive away from
home, Auckland is 40 minutes drive (on a good day!)

Saturday 21st was a bit cooler than we have been having, 16ºc most of the day
and overcast, but no rain.


After the usual morning chores, moving the cows, feeding the pig, chickens etc,
we met our third son Andrew (who lives and works in Pukekohe) and his
girlfriend Erin for lunch in Pukekohe. Having far more than we could eat for
$14 which included a drink as well!! (approx £4.65p).


Back home by 2pm. The afternoon was spent baking for my sister in law, Ann's,
40th Birthday party that night. It took me a while when I first arrived in NZ
to catch on, when it said on the invitation 'bring a plate' .....it meant with
something on it!!


I caught up with our eldest son Nicholas (by phone). He was busy, trying
desperately hard to finish work before his art exhibition opening that week.
He lives and works in Auckland and is a co-director of an art gallery in
Auckland but also shows his work at other galleries.


Michael our second son and Richard our fourth son (yes we stopped then!) were
helping Robert (my husband) outside as we had people arriving to buy hay that
we had for sale. It was a good season this year for hay and we had so much
surplus we we able to sell off quite a lot.


6pm Everyone in and showered and off to the Party!


The party was everything a 40th Birthday should be, drinking, eating, dancing
and catching up with others who have Wrington connections!!!!


Roberts Grandmother was Elsie Peace from West Hay. Anyone who lived in
Wrington before the 1970s would remember Elsie as 'the little old lady who used
to walk down the middle of the road' and sometimes walked to Congresbury or Yatton to do her shopping because she had fallen out with someone or the other
down the village!


Robert's sisters Ann and Rosalind went to Wrington School 1970-1972. Robert
lodged at this time with Mrs Collins, Brooklyn and then Mr and Mrs Vic Hunt at
West Hay. Robert's other sister Cynthia (mentioned often by Lyndley Havyett)
also went to Wrington School with Robert back in 1960ish!


Ann married Chris Browne-Cole from Clevedon. His mother Beryl, was Creamer,
(sister of Brian Creamer who often contributes to this site) is related to
Hilda Coles from Kings Rd. Beryl wished to be remembered to friends and family
So you see Wrington is never far away in our thoughts!!!

Our three eldest sons went to Wrington School and hopefully one day I will get
them to 'post' bits that they can remember about their time there.


My parents Ruth and Les Chard have just been spending some quality time with
family and friends in UK. I know they have managed to catch up with some of you
and when they return to NZ soon, we are looking forward to hearing all their news.


It has been really interesting reading about so many people associated with
Wrington.


Regards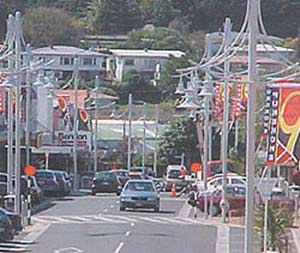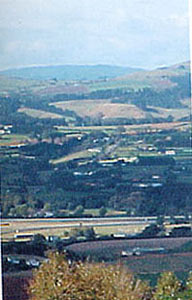 Pukekohe Main Shopping Centre Pukekohe


RACHEL BOWERS - Butcombe

I spent the morning doing my usual Saturday morning job, working with the junior orchestras of the North Somerset Centre for Young Musicians.

However, this was the day of our annual concert, in the Playhouse at
Weston, so it was far from the usual routine. After a brief stop to buy
that book for my daughter, we arrived at the Playhouse at about 9:45,
and stayed there rehearsing until about 12:15. My usual role is to work
with the junior cellos, but today I was also in the backing group for
the choir, so I also had to haul my gear about, and keep it from the
prying fingers of curious youngsters.

Back to Butcombe (with a headache!), and out to the village fete, which
was an opportunity to catch up with village news, spend some money, and
sit down with a cup of tea. It was nice to have a calm break in the day.

Home briefly to freshen up, before heading back to Weston. Fish supper
on the sea front, in warm sunshine, before going backstage at 6:30 to
shepherd hordes of children with violins, all crammed in to tiny spaces,
on a warm evening. My role was to keep them quiet (thank goodness for
Harry Potter, who helped greatly in this), to tune up the instruments of
the younger performers, and to shepherd them to their places.

We had twelve different ensembles performing, including 3 orchestras, Jazzband,
Concert band, Brass, and choir and percussion groups. I would guess we
had about 250 or more performers aged 8-18, with tolerant and
appreciative parents in the auditorium, for a long evening.

By 10pm we were all flagging, and were glad to haul one very tired
daughter and our kit back to the car, and home.


MARY & DAVID ALIBAND - France

We left the apartment we had at Nyons, Drome Provencale, which we had rented through the French company, Clévacances.

By 10am the temperature was up to 30ºC, the sky was a brilliant blue, and the sound of cicadas was everywhere. It's a lovely quiet road back to Montelimar, with deep purple lavender fields on either side of the road, and acres and acres of vines (for Côtes du Rhône wine).

Then the A7 autoroute to the Soleil - quite a lot of traffic until the turn-off for St Etienne.

We drove to Chartres for a night stopover. The cathedral looked very beautiful, but Chartres itself looks very decrepit on the outskirts.


MARK, ANGELA, MADDI, BECKY, ELLIOTT & MOLLY CURTIS (and our bunny Ebony) - Danville, California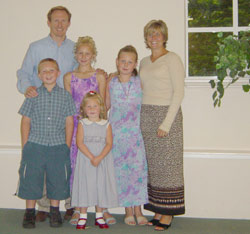 Sorry we missed the actual day. I so wanted to remember, but it slipped my mind. Possibly due to the fact that our schools finished for the summer on June 14th, so as well as our own 4 kids, had tons of neighbourhood kids around the house, swimming, eating, playing table football, barbies, Sims and Playstation 2. So even if I wanted to get on the computer to drop you a line......I had no chance!

That's what was happening on June 21st in the Curtis house, in Danville. I had my waitress head on to about 10 kids, although it felt like 20! The temperature was around 105 from about 11am until midnight, when a slight breeze got up.

We've had no rain since March and don't expect any until around November, hence, the grass on the hills is now a burnt yellow and flowers are wilting at the end of each day. I spend an hour and a half each evening watering. The BBQ is on constantly and we're beginning to look like rabbits from all that salad!

We are still enjoying ourselves in sunny California, but do miss you all terribly. I love the Wrington Website, as do our kids (Maddi, Becky, Elliott & Molly), but it also makes us a little homesick.

Enclosed are a few pictures of what we've been up to out here! We still own our house "Whistlers" in Silver Street. I send most fondest wishes to our neighbours, Tyrell & Veronice Davis at "Troutbeck". They have been in Wrington for 30 years and I know dear Veronica is in a nursing home in Weston. Best Wishes to all who know us, we won't forget you.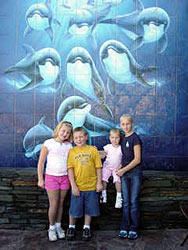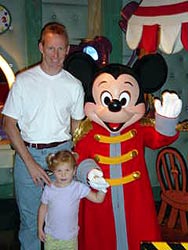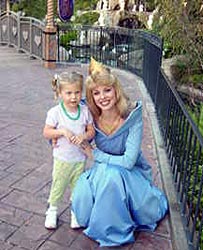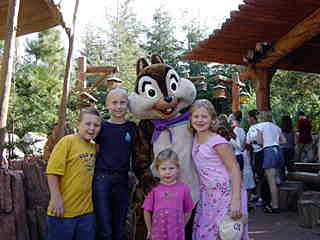 ALISTAIR & BRONAGH CROOK - Hamilton, New Zealand

Wrington World Day 2003 [postscript to first contribution - Ed]



New Zealand is the place to be
Deep in the heart of Waikato
Where its mighty river doth flow
Through our fair city – Kirikiriroa
Or Hamilton as we all know her.

Six bridges link the East with the West
Hamilton East of course being best…
The university up on the hill
And the Hamilton Gardens, such a trill
To walk around on a sunny day
So be sure to visit if you come our way!

We had an enjoyable day yesterday taking those snapshots of Hamilton and we
hope that you find them interesting.


Thank you for this wonderful opportunity to catch up with old Wringtonians, We look forward to seeing some of you when we visit Wrington in September.



Greetings, once again, from Hamilton, New Zealand.


FRANCIS & OLIVIA MONTAGU - Wrington
The Montagus' day was roughly as follows:

8 am Breakfast

In the morning Francis went to the church prayer meeting, then took the empty
bottles and old newspapers to the banks for same in Yatton, then on to the
tip at Backwell with garden waste and finally to Amors to buy two packets of
peanuts. On return he gardened including sweeping drive and edging.

Olivia sprayed and deadheaded the roses and did various household chores.
At 11 am she collected her god-daughter from Bristol airport. We gave her lunch
and after lunch Francis took her to Temple Meads.

In the afternoon Francis attended to various household finance matters and
made a start on his sermon for evensong the following day. Olivia did the Times
crossword, took her daily 20 minute walk (past your house!) , started reading
George Orwell's - A Clergyman's Daughter and then watered part of the garden.

In the evening a friend came for a drink.

We had supper on our own _ roast lamb etc. and a bought pud. Headed for bed
from about 9.30pm.



JUDITH HILL - Wrington

Jenny Berry and myself went to Brecon visit Wendy Medd this weekend. She moved from Wrington earlier this year.

We are pictured with the highest mountain in South Wales in the
background...Pen Y Fan

Regards,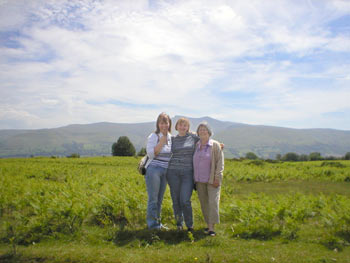 THE CLARK FAMILY - Geelong, Victoria, Australia


Proud Wrington residents of Piercehay Cottage, Bullhouse Lane from 1984-1991. Birthplace of Naomi, Damian, Stephen and conception of Felicity who was ultimately born in Waterloo, Ontario, Canada. The Clarkes finally made it "home" to Australia in October 2000 where Andrew is back working at the vet school from which he graduated many years previously!

June 21 was a mild winter's day, around 14 degrees Celsius. A fairly typical Saturday with the parents' taxi in full use. First trip was to Melbourne to collect Naomi and her many suitcases from Newman College, a university residence for the mid semester break. Naomi is undertaking her first year (of many!) of a medical degree at Melbourne Uni. Newman is where Andrew, her dad, lived while at uni and the location of her parents' wedding in 1977. It has much to answer for! Melbourne is an hour from Geelong which is the largest provincial city in Victoria.

On arriving home in Geelong, the next taxi was about to depart also for Melbourne. This time it was to take 14 year old Stephen to another part of Melbourne for an ice hockey game. Having spent a number of years in Canada, Stephen is a proficient ice hockey player and has represented the state at his age level for the past two years. Stephen and Andrew greatly enjoy their road trips to ice hockey. Stephen and Andrew returned home at around 10.00pm.

After unpacking taxi number one, and feeding those at home, the next trip was to Ocean Grove, 25 minutes from Geelong on the Surf Coast. Damian and a friend were off to one of the many 18th birthday parties of the year. Damian is in his last year of high school, working hard as competition for university places is stiff. He hopes to attend Melbourne Uni next year to study Commerce/Science.

11 year old Felicity was party to much of the taxi driving on the day. If she had had her way, she would have much preferred to be participating in her great passion of indoor rock climbing.

The final trip of the day was yet another trip to Ocean Grove to collect the party goers at around 12.30am - technically now June 22!

For anyone wanting to contact any of us please e-mail tclarke@grandconnections.com.

Fond regards to all Wringtonians - what a happy place and time that was in the
lives of the Clarkes.




IAN & DOROTHY OVERINGTON - Willingdon

Left Wrington early in the year 2000 after spending 35 years in the village, living at Priory House, Station Road (just opposite the church). They now live at 10 The Cloisters, Willingdon, near Eastbourne, East Sussex.

During their time at Wrington they brought up a family of three - a son & two daughters. As so often happens these days, their offspring have been spread far & wide, including various parts of Southern England, Holland, Taiwan & France at times.
As of now their son Martin & his family are living in Lower Willingdon, about a mile away from the Cloisters, Martin having married a Taiwanese wife and now having two daughters aged 16 & 12.

Ian & Dorothy's eldest daughter Anne has moved around Southern England, but is at present resident in Bouere, a small town near the Loire Valley in France. She has no children.

Their youngest daughter Caryl, having lived for quite a time in Holland, is now resident in Ash, near Sandwich, East Kent. She has 3 sons (aged 16, 14 & 12) & a daughter aged 5.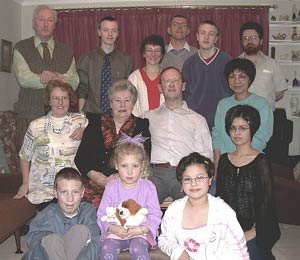 Whilst in Wrington, Ian & Dorothy were active in the local church, particularly with the music. Dorothy was also very active in the local Women's Institute. Although one main reason for moving from Wrington was an effort at a major downsize in both property & involvements, almost inevitably it might be expected that the local church, the local W.I. and their new garden (they ran a large garden behind Priory House) have come to feature largely in their (somewhat quieter, more leisurely) lifestyle.

| | |
| --- | --- |
| | |
The weather in Willingdon on the 21st was glorious mid-summer sunshine. In
fact, June this year has better lived up to its reputation of 'Flaming
June' than is often the case! Sadly, if one owns a garden and wishes to
keep it productive, the downside of too much glorious summer weather is a
need for artificial garden watering. Therefore, much of the morning of
21st June was taken up, for both Ian & Dorothy, in major watering of the
garden.

As a normal weekly summer activity, various greenhouse & conservatory plants, together with a number of shrubs in large pots, need to be given a feed of liquid fertiliser, but on this particular day it was necessary also to complete a total garden watering which had been started on the previous day, owing to the Eastbourne area having had an unusually dry late winter & spring (Ian keeps a record of local rainfall and, since the end of January, there has been a shortfall
from the norm of about 50% every month!).

As for the content of the garden, at present we are in rather an 'in between' season. Recently we have seen the last of a superb spring showing of a wide variety of flowers, many of them being the first full showing of plants which we have introduced to our (already well-stocked) garden since we moved here. Many summer flowers are just beginning to bloom and we look forward to a further good display in the coming weeks.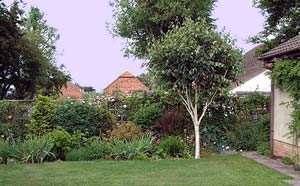 Ian is now an active member of the local church choir and, as such, was occupied for a substantial part of the afternoon of 21st June with choir activities. Firstly there was a wedding at 3pm which required a choir.

Then he had to stay behind to rehearse a vocal solo and a madrigal which are being performed as part of a 'Church Family' concert to be given on the evening of 23rd June in the church.

Ian has some on-going business activities with his son involving computing which started some time before we left Wrington. So whenever there is free time (and energy!) he spends some of his time on the computer, mainly involved with this business activity. The 21st was no exception to this, some time being spent on these activities after returning from the church activities.

Apart from the weekly garden activities and the (relatively rare) church
activities, Saturday is a day when not much happens other than general
pottering about (we have always steadfastly avoided going very far at the
weekend other than very local activities in order to avoid the crowds).

So from Dorothy's standpoint there is sadly not much that can be reported. In
fact, when the weather is so warm she finds it better if there is not much
physical activity necessary. So she is able to sit in our (well-appointed)
conservatory mainly reading (with two fans going and the conservatory doors
- netted against insects - wide open).


JOHN RUBIDGE - Wrington [more pictures on page 1 - Ed]

Having spent 12 months thinking and talking about it, the 21st of June 2003 arrived with a blaze of sunshine to raise our spirits as friends Rob Clarke, Mike Harris and myself embarked on a day to remember. It so happened that by chance Wrington World Day was the same day we selected to celebrate 2 births in 1953 and one in 1963 with a joint 140th Birthday Party in the Wrington Memorial Hall.

Nothing fancy, you know just a few friends and a drink or two! We planned to host a "James Bond" theme party, an idea concocted over a few cocktails at friends Dave, Celia, Chris and Andreas "Tequila's on the Terrace" party last summer when we plotted our night to remember and for the night the Memorial Hall was to be re-named "Casino Memorial".



Preparations on Saturday morning began at 8.30am in the hall, our vision was to transform the hall into a shrine to the spirit of James Bond. The back of the stage
was painted with a classic James Bond image which opens the credits to every film (thanks Julie and Richard Kingcott for your help with that) which would act as a
fitting backdrop to the band eyetoeye (more about them later). We were able pull together a large collection of posters and promotional material capturing the legacy and evolution of the Bond phenomena which we had photo enlargements almost completely cover the walls with images symbolising the man, (all five of them) his arch rivals and the beautiful women he spent so much quality time with.

Miss Money Penny's office set the scene as the entrance to the hall with the final touches being the Casino Bar in the corner, tables dressed casino style around the edge of the hall with Helium filled balloons and a first I think in Wrington, we
erected at the end of the hall our own multi-media giant screen 15 feet across to project images and film clips throughout the night. This technical wizardry using digital projection was conceived by Leigh Harris (Mikes eldest son) but would it work ?



So with my wife Lynne, Mikes wife Judy and Robs wife Sally together with Mikes sons Leigh, Daniel, Thomas and James, along with Sophie and a little later in the afternoon with the lighting Dave Dodds we began to prepare for the party. Needless to say not everything we visualised went exactly to plan but its amazing what a bit of improvisation and determination can do as our multi-media screen (hand built by Mark and I a few days earlier) proved. It just wasn't big enough ! So with the clock ticking we had to make a bigger one and quickly as well as set up the projector in the ceiling of the hall – now I wonder if anyone spotted what was on the reverse side of the screen ?

Anyway that challenge out of the way everyone worked so hard to get it all ready by 7.00pm when we expected the band to arrive to set up. All those wonderful thoughts of a nice long leisurely lunch, afternoon tea, cake and biscuits all went out of the window along with any cool air as it must have been the hottest day of the year so far. All to do and still the food to prepare as well as set up the bar! I must admit after all the effort we looked on and thought, who's idea was this in the first place ? Will anyone turn up as it is so hot, are all the posters going to stay up on the wall, how reliable is Blue Tack in 90 degrees heat, is there enough food and drink, won't the ice melt before people arrive, will the BIG screen and digital projector work ? I'm not sure who said stop worrying at that point but we all agreed we had done enough, headed for the shower (no not the same shower) and after a couple of Vodka Martinis, shaken not stirred, we were ready to party!



Having dressed for the occasion, Lynne, Judy and Sally looking stunning, Mike, Rob and I chinked our glasses and looked forward to the first guests to arrive, all of which had been invited to dress in suitable "James Bond" style. Well we were not disappointed on that front as slowly the "Casino Memorial" began to fill with familiar characters some in brilliant disguise, Odd Job, Blofeld and his cat (Nick and Sarah I will never be able to keep a straight face when I see you), Pussy Galore, M, Q and more James Bonds than you can shake a cocktail stick at. Oh and Mark you never let us down with the most amazing jet propelled back-pack which was simply brilliant.


The atmosphere was amazing as probably 130+ people, despite it being so incredibly hot got into a great party spirit to celebrate with us as the band "eyetoeye" raised the temperature still further with two non-stop hours of great music. Whether you wanted to or not you just had to get up on the dance floor and dance to, Brown Eyed Girl, La Bamba, Mustang Sally, Baggy Trousers, Crazy Little Thing, I'm a Believer, Walking on Sunshine, Come up and see me make me smile, the list goes on and on as did most people – no time for a breather! I don't think I have danced so much and it was such fun to dance with everyone as we did in particular my two daughters Becky and Hannah along with my sister Marianne and Lynne – that was very special !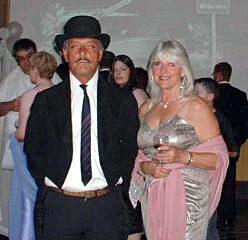 Towards the end the band (weren't they brilliant!) slowed us all down, sat us in a giant circle on the floor (phew a rest at last) and began their version of American Pie, slowly building up to a great finish everyone on their feet again dancing together – what a great scene for a movie!


Well as all good things must come to an end the clock struck midnight ending the longest day of the year and the party started to wind down. Thanks Mike, thanks Rob for sharing your special day with me, a special thanks to Lynne, Judy, Sally for being you and working so hard and thanks to everyone who came along to be with us on what was one amazing night for us to remember.