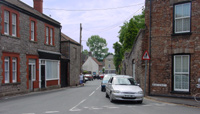 11.30am


JOHN & JANE NEWSON - Dubai, UAE

Thank you for inviting me to contribute to your WRINGTON WORLD DAY event.


While I have never lived in Wrington I have passed through on many
occasions on my way to work in Bristol from Weston Super Mare. This of course was some 15 to 20 years ago. Now I live in Dubai United Arab Emirates. This is the good bit, next to Saudi.


So enough waffle and on to my report for Saturday 21st June 2003.


Weather: temperature 41deg.C. 105deg.F. dropping to 28deg.C. 82deg.F.
humidity 75% with plenty of sunshine followed by sunshine followed by even
more sunshine. daytime from 5-30am to 7-00pm.


NEWS.


1] An arab league body is working on an ambitious project in the UAE to
combat desertification through forestation, preperation of maps on affected
areas and rehabilitation of sand dunes.[when did sand dunes do any harm to
anybody.


2]Article entitled 'bitter vengence' Three of a family taste tea of a
different kind- desperate Indonesian urinates into the kettle.


To cut a long article short the Housemaid on being refused leave urinated in
the kettle and made tea. Result 2 months jail followed by deportation for
endangering peoples lives.


3] Harry Potter fever struck Dubai at 5-00pm today with the launch of the
latest book 'Order of the Phoenix'. Just like the rest of the world.


4} I got my copy delivered personally by my sister in law who bought it in
duty free in Heathrow. NO HASSLE.His Highness Sheikh Maktoum Bin Rashid Al
Maktoum ruler of Dubai together with the Crown Prince Sheikh Mohammed Bin Rashid Al Macktoum continue there winning assault on Royal Ascot with
CHOISER in the GOLDEN JUBILEE STAKES.


On the personal front my wife and I are looking forward to her sister's
wedding, hence the visit referred to above, so its out and about shop, shop,
shop till you drop. Wedding dresses, rings, cakes etc. which reminds me the
pub is open so its time for a pint.


Hope your venture is a success and that my small contribution is of help.


Goodbye or Marsalama.




SUE & PETER GEARING - Wrington

We have lived here for 20 years.

An early start - fortunately great weather - and I (Sue) drove down to Broad Street to pick up Chris and Darryl Brown who are off to Bristol Airport for a holiday in Majorca. Arrive promptly at 6.20 and there they are just emerging with cases in hand. Very busy at the airport as usual, and as usual, the same old chaos and difficulty in even finding somewhere to stop briefly to let off passengers. Manage it.

Back to Haydens (just by the Rectory) where we live and have breakfast. A busy day today. Peter and I are heading off to the Brecon Beacons National Park for one of my weekly walks. I research, write and do a circular walk
every week for the Western Daily Press for their Saturday colour supplement, West Country Life. Have done so for over three years.

Pack the car and include a picnic. Say goodbye to our cat Rosie and then drive a minute up the road to Alburys to pick up Shabbah, the dog I walk who lives with Tim and Jo Gillians. Am not surprised to get a rapturuous welcome from Shabbah.... I carefully open the door and let Shabbah out without disturbing the family.

Wonderfully quiet roads. Make our way past Newport and up to the starting point in the Brecons just beyond Blaenavon. Really glorious up here with wide open views and a breeze. Park at a viewpoint by a pond. We set off on the circular walk at about 10.30 am in the end, having had to go back to the town to buy a film. (I take photos as well).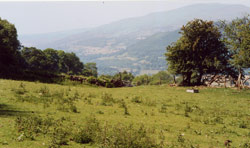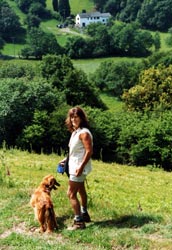 Very varied walk taking us along the edge of Blorenge hill (the peak reaches 559 metres) with incredible views over Abergavenny and the Sugar Loaf and other heights of Brecon. Descend into the fertile valley and then reach the Monmouthshire and Brecon Canal. Follow the canal towpath for about 45 minutes with about three boats passing us en route. Reach a boat centre and then begin the climb back with a welcome picnic half way up.

The climb is hard going, but fortunately shady and then it levels out so we continue round the other side of Blorenge through bracken and moorland. Meet a couple of runners en route including a very fit looking man who is in training (for what we don't know) but it involves running from the foot to the peak several times...rather him than us!

We are tired and hot when we finally reach the car and an ice cream van! Home, via Ikea for a quick purchase. Drop Shabbah home and then gratefully seek the cool of our home for a quiet evening. Watch Casualty!...a load of rubbish.

PATRICIA TAUNGA
- Auckland, New Zealand



Greetings to all in and of Wrington ( no matter how far away you may be physically!) on 21 june 2003


Auckland turned on a perfect morning despite it being the shortest day for us here in NZ.My grandaughter, Nicole 5 years , recently arrived back here
from Ireland and she was awake and clamouring to go to the local bookshop for the festivities which were to precede the launching of the latest "Harry Potter".

What fun we had with a wizard casting spells and giving out Harry Potter chocolate until the witching hour of 11.01 am when the book was ready for sale. The wizard then proceeded to the local library with children, parents and grandparents tagging along behind. He read the first chapter of the book to a rapt audience.


All this was hungry work so we then set off to the garden centre to buy plants and have an early lunch. The afternoon was spent planting pansies and tidying up the many pots of plants sitting on my verandah. Lovely to have another generation enjoying plants and gardening.


Of course in Auckland we seldom get a day with out rain and Saturday was no exception ! Part of the afternoon was involved in scrambling to get the washing in before it was soaked!


A trip to the supermarket finished the afternoon and we ended our day reading books and watching a children's movie on tv.


I am hoping to be in Wrington in August this year and to catch up with friends.
Till then - arohanui from New Zealand


MARSHALL CLEMENTS - Wrington 1st XI Vs Nailsea

Nailsea 107 All Out
Wrington 110 for 8



On a day when the usually reliable Clements Brothers failed with the bat, it was the Docherty brothers who won the game for Wrington. Simon bowled with genuine pace to finish with figures of 4 wickets for 27 runs off his eight overs ablely supported by brother Nick who chipped in with two for 19 off six overs. Simon then provided some crucial big hitting as Wrington wobbled in reaching their target of 107.

The game started with a bang as the ball flew to all points of the ground as Nailsea raced away on a fast wicket. At 40 for none off the first 8 overs it looked like a high scoring game. However, a sharp slip catch by Steve Bright which only just carried changed the nature of the game as wickets tumbled. With the radar now working all of Wringtons' bowlers kept it tight and a superb run out by Keith Parsons following a full length dive reduced Nailsea to 56 for six. Nailsea continued to compete for every run and finally recovered to 107 all out.


In reply all of Wringtons' top order looked comfortable before getting out cheaply. In chasing a low total which only required not loosing early wickets it was disappointing to see wickets given away cheaply and soon Wrington were in deep trouble.

It needed a solid 21 by Andy Ball to steady the ship but once he was caught 35 runs were still needed with only three wickets left. However, Ben Cox, Mark Humphries and Simon Docherty saw Wrington home with some big hitting including a Mighty six by Mark Humphries which released some of the tension when Wrington were under the cosh.

The win keeps Wrington at the top of the table and unbeaten in the league.... but only just.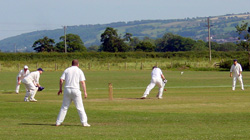 TINA JOYCE - Winscombe

It will be 18 years this December since we left Wrington for far flung
Winscombe, not as exotic as some of the places others have found
themselves in but nevertheless, a good 12 minutes down the road.


Saturday 21 June 2003


Too hot to do anything really physical in the garden but I'm sure if I
"bimble" around I can find something that will prevent me from having to
resort to the ironing.

Sat. Evening.


Well, I've pulled out a few weeds and dead headed some of the old
fashioned roses. I never do this without remembering Lorna Bathgate.
The roses always seemed to be at their best around the time of her birthday, June 18th.


What would she have made of Wrington World day? I guess she would have
embraced it in the same spirit that she took on so many other
developments in her long life.

Chris has been to cut the grass ( what would we do without him? ) I have
phoned Sue and Helen to wish them a Happy Birthday and Kevin has
phoned to say that the good ship "Rio" is safely in harbour at Hayling
Island, which is sort of good, considering that they expected to be at
Chichester.

Rio is his new found love. He is spending a week sailing her with our son
Christian and his wife Anita and a sailing friend, Geoff. Their plans to
cross the channel were thwarted this year because of the wind direction
and lack of time. Nevertheless, they've had some challenging sailing and
today almost found themselves taking part in the Round the Island race
(Isle of Wight)

A phone call from Bryony to say that her broody hen has hatched four
of her seven eggs.

Cats are all accounted for, Blobby, Bobo, Morris, Doris, Millie and Hissing
Sid.

I've watered the pots and the greenhouse.


And so to bed.

LESLEY RASTI - Broadford, Victoria, Australia

Hi, I just found out it was World Wrington Day. I don't come from Wrington, I live in Victoria Australia.

My family left England in 1857 I have traced them back to Wrington. The Surnames are Maggs, Warley and Sweet. I could not believe it when I looked at your site and there is a pic of John and Polly Maggs and seem they are such a good looking family - I figure they must be related to us. Anyway, I will have to wait till next year when I hope World Wrington Day will happen again.

Please wish them a happy Birthday from the Great Great Great
Grandaughter of George Maggs and Sarah Ann Warley, and the Great
Great Great Great Grandaughter of John Warley and Elizabeth Sweet.


One day I would like to visit but at the moment I cant Swim that far.
Thankyou for an interesting site and I hope to see you in the future.


Regards


SIMON, BECCA, TEAGUE & SODJOURNER (the dog) THORN - Kaulille, South Limburg, Belgium.

Greetings from a warm (26C) and mostly sunny Belgium. Saturday dawned, as they mostly do with a five year old and a new house, with a list of chores and an enthusiastic helper to make sure things take twice as long as necessary).
An early trip to the local hardware store was followed by a messy two hours cleaning the gutters around the house. This led to the first discovery of the day; no less than five additional swallow families making use of the hospitality proffered by an easliy accessible roof construction.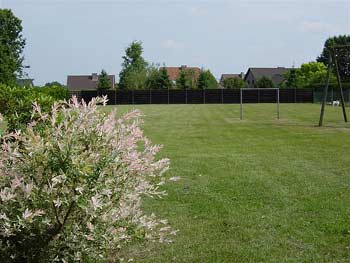 A quick lunch, supported by that old favourite Ben Hur on the television, was followed by a hectic 45 minutes getting the family ship-shape and Bristol fashion (showers for all) and then it was on to the main event of the day, the works barbeque at the home of my boss in Lommel (also Belgium). 20 adults and 15 children (all in the age range 4 to 10) made this a frenetic but enjoyable four hours of eating, drinking and trying not to talk about work, interspersed with liberal amounts of high quality football (or soccer depending on where you are reading this) : Boys against girls, fathers against sons, fathers and sons against mothers and girls and a few combinations characterized mainly by who managed to keep hold of the ball the longest.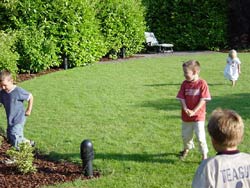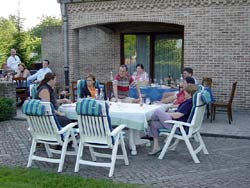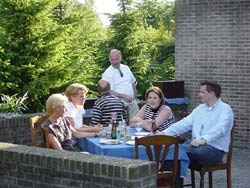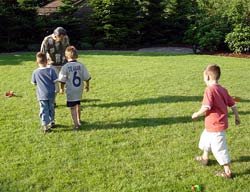 Eventually, the setting sun and the resulting chill in the encroaching shade, suggested it was time to wend our way homewards. A frantic welcome from a dog very pleased to see us, a quick chapter of HP and the prisoner of Azkaban, and all was quiet again on the Belgian front. Building our reserves for tomorrows adventure : Open day at the local school with games, song and dance and, you guessed it, a barbeque.



ALISTAIR & BRONAGH CROOK - Hamilton, New Zealand

Kia ora Richard

The photos I have attached are of Al standing with Little Bull (a sculpture by a local artist - Molly McAlister)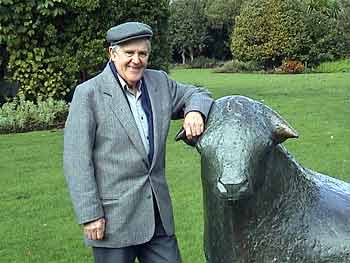 Turtle Lake in Hamilton Gardens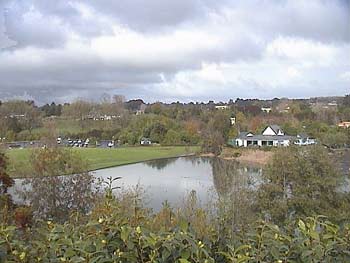 our house - 21 June 2003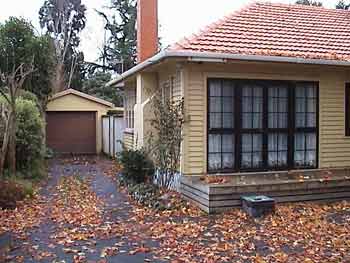 the Waikato River on a Winter afternoon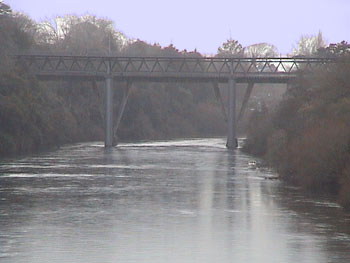 our local brewery for those who are interested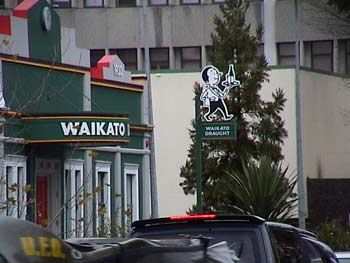 Greenslade House, one of the oldest houses in Hamilton -
you can see that we are still very much a young city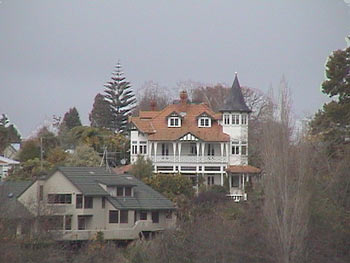 Finally, Bridge Street looking up to the Catholic Cathedral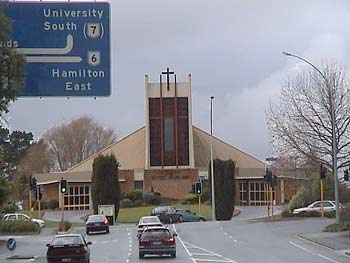 We hope you enjoy the snapshots of our city.

PS


DAVID PEERLESS - Santa Cruz, California

A rather quiet day here. It's a beautiful summer day with a cloudless blue sky, hot sun and a cool breeze. The blue sky is a bit unusual as often during the summer a fog belt rolls in from the cold offshore current.

We got up rather late as we were down at the Boardwalk yesterday evening listening to an old rock and roll band that was playing the first of the summer's free concerts (Jefferson Airship and Davey of the Monkees are two of the future concerts.)

This morning I drove my son to the nearest airport, San Jose, to fly off to Indianapolis to visit friends and go to a wedding in Chicago. He is staying
with us for a short time as he's just back from six months in Indonesia and is "between jobs". After getting back from the airport we did the California
thing and went to the Fitness Spa to work out.


Today Santa Cruz has its annual display of "Woodies on the Wharf" the old wood paneled station wagons (shooting brakes)that are in the nostalgia bank of older surfing Californians. They're fun to look at but I spend more time looking at the pelicans, diving for fish, and the sea lions.


That along with meals, email, watering plants, reading the paper and feeding a neighbour's cat pretty much fills up the day.


Hope all is well in Wrington - despite the brief time that I lived there - I think of it frequently, and fondly.


Best Wishes




BILL AND KATHY CROOK - Ladywell, 273 Lamb Street, Cambridge
New Zealand.

Greetings to all .


Firstly, re: our address, Kathy and I named our home "Ladywell" when we moved here four years ago. The street name, Lamb, is in tribute to the English poet and not to one of New Zealand's main exports. Kathy is a New Zealander and I have lived here for 40 years.

Cambridge is a country town with a population of 6000 people. It is positioned in the Waikato ( y-cat-oh) province in the North Island. By road, we are two hours from Auckland, six hours from Wellington, one hour from Rotorua and one from the Waitomo (glowworm) caves and three hours from Mount Ruapehu - the active volcano that erupted a few years ago. Ladywell is ten minutes from Hamilton airport and three hours by air from the Australian Gold Coast, where we holiday every two or three years.

Cambridge is a major centre of our dairy industry, as well as being world famous for its race horse studs. We also have some large areas devoted to growing flowers for export and business is blooming.

Two kilometres down the road from "Ladywell" is Lake Karapiro where international rowing events are often held. New Zealand's longest river, the Waikato, runs through Cambridge .

Wrington World Wide Day : Saturday 21st. June 2003 A.D.

My day started at 6.00am when I watched the second half of the New Zealand / Colombia soccer match in the Federation Cup. The 3 – 1 loss was not, regrettably, unexpected.

First light revealed a typical Waikato winter's morning. Damp conditions have prevailed all week and today was no exception. A mild 12 degrees makes the mist not unpleasant and a reasonable day usually follows.

Two of my grandsons, Anthony and Bob, had stayed overnight and were willing helpers when it was time to pick up leaves. A photo shows the work in progress and you may note they are both barefooted. This not because we can't afford shoes, it's just that most kids of this age don't like shoes and many go to school barefooted.


Leisure is intermingled with work and "Beckham fever" required some foot and heading practice until steady drizzle set in and the computer aerial combat game was undertaken. They're both quite skilled at this, although Bob tends to shoot down the B24's as well as the Dorniers! Somewhere in there Kathy made toast and coffee for ' brekkers'.

Soon the sunshine came and the temp rose to a comfortable 15 – 16 degrees. More leaves were put in plastic bags, where they will remain until spring (October)

We then removed the dead stalks from my Dahlias. It's not necessary to lift tubers here but I do because Alfie Crook always did in Wrington!!

At 1.00pm we had a light lunch of seeded buns and cold chicken. At this time we had a rare visitor to our garden in the form of a native bird known as a Tui (too - ee). It's the third time it's visited us this week and I'm hoping it will come more often. The thought of it nesting here would be too much to hope for.

After lunch Kathy's daughter, Karla, arrived with the latest member of our whanau (extended family) Kaleb. Kaleb is four months old and is a sheer delight for us all.

Soon after they arrived, my daughter Sharon, came to pick up the two boys to take them to Te Awamutu. Where? I hear you asking!!

4.00pm.
Kathy and Karla have gone to the supermarket and I get to mind Kaleb who is asleep. The weather is closing in again and the temp has dropped a few degrees. The tree ferns in my garden are moving slightly but soon they will be still. The sky out over Hamilton is grey and tonight's All Blacks – Wales game could be played in wet conditions. I couldn't get any tickets so will have to watch it on the telly.

My brother, Alistair and his wife, Bronagh, arrived at 5.00pm to share the evening with us. We always have great discussions about, and memories of, Wrington. After a pork roast dinner we all watched the All Blacks defeat Wales and then England beat Australia! Love it when that happens.

A wonderful day.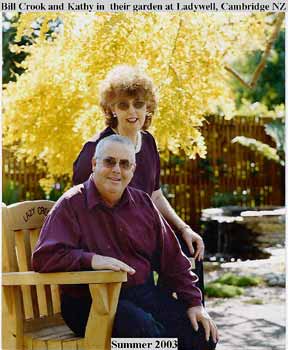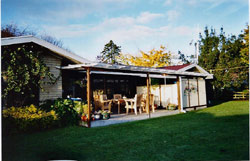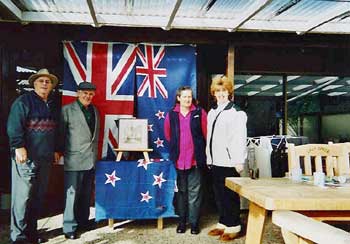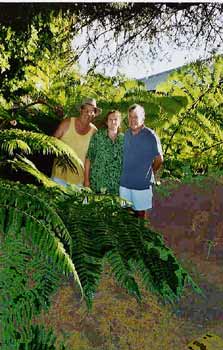 Bill, Alistair, Bronagh, Kathy in 'the ferns' at Ladywell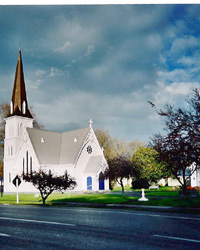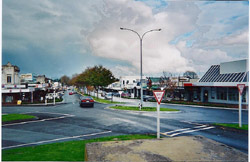 St Andrews church, Cambridge Victoria St. Cambridge


JULIUS HERRSTEIN - Wrington


I am the deputy chairman of Glenside Hospital Museum and I spent the morning showing visitors round the museum, in fact, this morning we had a lady from Göttingen, Germany.

Glenside Hospital was built in 1861 and served the city until 1994 when apart from two wards and the forensic unit it, was passed over to the University of West of England.
What used to be the patients' chapel is now the museum and it is the latest
museum of Bristol. We are open every Wednesday and Saturday morning from 10a.m until 1.00 p.m depending how many visitors we entertain.
If we have no visitors then we close at 12.30
The museum is registered charity we have no admission charges but if anybody is generous enough to put a pound or two in the box we give them a few booklets to describe life in the hospital as it was experienced by patients in the past. The museum is situated between Fishponds and Stapleton, the entrance is opposite the Old Tavern.
The old hospital buildings are now used as lecture rooms and dormitory for nurses, physiotherapists, x-ray therapists , and other disciplines in training for the Health Service, it is the faculty of health of the U.W.E.


DAVID DUNNING - Wrington

Another beautiful day in Wrington and Colette and I are at the rec' supporting the 2nd XI cricket team against Cleeve.

I run the Under 17's team on a Sunday and take immense pride in watching 5 of 'my lads' (Will Nutbeen, Marshall Clements, Chris Dunning, Luke Ford and Mick Edmunds) playing for the men's team on a Saturday. At one stage the oppo' are 2 runs for 4 wickets and are eventually all out for 71 (the under U17's taking all 10 wickets). At 15.15 we are making a panic 'phone call to Gerry Ford to bring the teas quick as it seems likely that Cleeve will be all out before 15.30 (tea is normally at 17.00 !). Wrington eventually coasted home with 7 wickets and 20 overs to spare.

We are so lucky to have the facilities in the village and the commitment and enthusiasm of the players, young and old. I love the summer !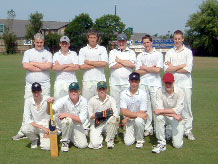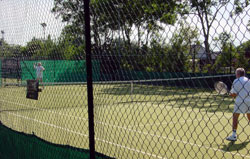 ROS KOCH (née Avery) - Shepherd's Bush

I know this comes from my mum's email address but please don't fret;
it's not another lengthy instalment from her!!! No, this time it's one of the clan: her youngest, Ros, just writing to let you know what I've been up to today.

We (my husband, Peter, and I) started off the day in London. We woke to a
bright and sunny summer solstice, to hear lots of banging and crashing
inside our little garden flat. Ah yes, we soon remembered the day had finally come for our flat mates, James and Daniella, to move out.

A few hours later, the flat was almost empty (they had gathered a lot of
stuff over the past few years in London!!) and it felt quite strange to have
the place all to ourselves. Pete celebrated the fact in the only way he knew;
by prancing around naked for half an hour!!!

I, in the meantime, had an appointment at our local church, St.Barnabas in
Kensington. I'm interested in getting more involved in the prayer ministry
so went along to a training morning to find out a bit more about it. I was a
tad disappointed that I hadn't been more organised and found someone to video England v Australia whilst I was out but luckily I got someone with sky TV (in Wrington, no less!) to tape the highlights this afternoon!

After church, I cycled to Clapham Common where I joined Peter, and a
South African friend of his, for a lovely picnic. Half of London must have
been out there today, without half their clothes (lots of bikinis!!) enjoying
the warm sunshine. Had to drag Peter away so we had time to pack before setting off to Paddington to catch our train. Now we're at "home home",
back in sunny little Wrington, to spend the rest of the weekend with the folks. What a perfect end to a perfect day!!



Good luck with the write up Richard!



GORDON BRIDGES - Nottingham

My contribution for this event is to mention Ascot Ladies Day No, we didn't go Ascot came to us .


The weather was kind although a bit windy, when at 12.30 eight invited ladies (all friends of my wife Pat & I) arrived to spend the afternoon in our garden eating and drinking and giggling.


At the beginning of each race I dressed in a waiter's uniform I had to go into garden to inform the ladies that the horses were going down to the post , the ladies would then troop into the lounge and watch the race on the TV, each becoming more vocal as their "horse" appeared to to do well.


To add to the excitement I had taken their individual bets to the Bookies earlier.


By the time of last race ,having now eaten their way through an array of nibbles, a lunch of poached salmon salad etc various puds, an afternoon tea of smoked salmon and cream cheese sandwiches, scones clotted cream and strawberry jam, topped off with strawberries and cream,


Goodness knows how much champagne and wine was downed by these ladies, most of whom did, by some miracle managed to select at least two winners each .


At six thirty their husbands arrived to take them and their winnings home.a wonderful day well worth the time and effort


Regards.


JO LEWIS - Plymouth

Hello to all Wringtonians - past and present!

First of all, thank you to Richard for putting in the effort to bring this day to fruition. I'm sure many ex-Wringtonians, like myself, feel closer than ever on a day like this? I still have my roots alive and well in Wrington as Mum, Lilian Edwards still lives in Lawrence Road and I also have a few more relations there as well. Dad, Jim, is buried in All Saints churchyard and tomorrow, his birthday, he would have been 75. I'm sure he would have been very interested in today's activities. I always recall him telling us, when we were children, that the day before his birthday was the longest day of the year. I'm also sure that, when he was a child, it must have seemed like that as well!

Well, on to Wrington World Day ....

The day of the Summer Solstice dawned bright, sunny and clear but with a keen breeze here in Plymouth. I was born in Wrington but I now live in the heart of the village of Plymstock, a suburb of Plymouth. Plymstock has many similarities to Wrington, one of which is the village church and its bell ringers!

The old Norman church (not built quite to the 'cathedral-like proportions' as All Saints!) is at the bottom of the road in which I live and, on Tuesday nights, I love to fling the windows and doors open to listen to their practice. My husband is not, I'm sorry to say, of the same accord. When I hear the bells, I'm transported back to my childhood bedroom where my sisters and myself would lie in bed (children went to bed much earlier in those days!) and listen to the church bells on practice night. I always loved to hear them and was very pleased to move so close to the church because of the memories they invoked....I digress!

The church clock has chimed 10, I've just had my morning coffee and I must walk the dog. I am 'dog-sitting' a lovely Cocker Spaniel, Sparky, for a friend who is away for the weekend. It really is a beautiful day and everyone I meet, on my walk, seems happy to stop and pass the time of day. A neighbour is in his garden 'watching the flowers grow'! I pass another on his knees in the street trying to read his water-meter. He promises to say a prayer for me while he is kneeling there!

Past the village pub, which has opened at 10 this morning, so anyone who wishes (whatever makes people happy) can pop in to watch the England v Australia rugby match on the big screen (my husband says we won). A quick wave and a smile to the 'inmates' of the local retirement home helps to make their day and mine.

Saturday afternoons are usually spent in town, with my mother-in-law, and today is no exception. Strolling around the shops, bargain hunting, drinking coffee and generally passing the time at a much more leisurely pace than the rest of the week. The town is looking very good at this time of the year, with the flower beds and tubs etc. a mass of colour. The city council have done us proud this year. The breeze dropped and the temperature this afternoon rose to the mid twenties but, this evening, the wind has picked up yet again and there may be a chance of a thunderstorm (I hope not as when it rains in Plymouth, it forgets to stop).

I will relax for the rest of evening with my husband and 16 year old son who, after a party last night is feeling rather tired and is rewarding us with his presence, which is unusual on a Saturday night. Before I can sit down though, I have to walk the dog again and water the plants in the garden and greenhouse.

There is a live, interactive programme on TV tonight, 'Haunted Live', my kind of entertainment! That reminds me, I must ring my older son and his wife to see if they have remembered it is on. I shall be very interested to read about my fellow Wringtonians' longest day(s) and hope it is a great success. Long may it continue! Finally, I would like to take this opportunity to say hello to anyone who remembers me and also to my family, in and around, Wrington who will be looking in!

Luv to all




MALCOLM HERRSTEIN - Camerton

I was told about Wrington World Day by David Aliband while at Philip
Aliband's wedding in Heidelberg on the June 2nd, my father Julius has
passed on your email details so here is my contribution as an ex Wringtonian.

As a Bath based Graphic Designer for approx 16 years and running my own
company for 12 of them Wrington World Day and the weekend are no
boundaries between leisure and work! Today in Bath on this very sunny but not uncomfortably hot day I am in the 'Herrstein Design' studio (sorry about the plug!) working on an urgent book jacket design needed early next week.

With a stash of good CDs to play it doesn't make the work seem such a
division from more leisurely weekend activities. Currently playing is 'UP' by Peter Gabriel.

Will be finishing today at about 7.30pm and then going home to Camerton
where I have been living since leaving Wrington in 1994. The evening will consist of a old college friend coming round, some decent home
cooking, more good CDs from another stash, some guitar playing and
possibly watching a DVD later on.

And there you have it. My Wrington World day in the life of a Graphic
Designer!

Regards