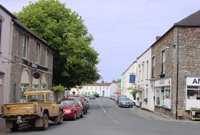 11.30am

ALAN MORTON - Battle, East Sussex
What a great idea!!

I'm afraid my day's been a bit boring. I spent the morning at work (Inland Revenue in Tunbridge Wells, our motto 'we never sleep'). In the afternoon I went shopping in Hastings with my wife Jude then came home and began to train a rose to climb up a fence in our backgarden.

For the record, I was once of 29 Garstons Close and left wing of Wrington C of E Primary School football team. I left Wrington in 1989.

Cheers for now


ANNE DALE - Wrington
A quiet day at 'Prestowe', Long Lane.


We have lived in Wrington since 1981 and since retiring 7 years ago we have added gardening to our activities.


Friends and family will confirm that even with our best efforts parts of the garden are often left in there natural state. Thankfully Marshall Clement's sheep are great lawn mowers in the orchard. Even so there are some 'interesting' wilder areas together with a small meadow that is cut in August. These wilder areas together with flowerbeds and a vegetable garden have led to a marked increase in wildlife, particularly birds and insects.


I decided to make a list of butterflies seen in our garden on 21 June 2003.
Fortunately today has been glorious and so far I have seen 7 different butterflies enjoying the sunshine.

Small Tortoiseshell
Brimstone
Comma
Painted lady
Common Blue
Meadow Brown
and of course the inevitable Cabbage White

Later on in the summer we usually see Peacocks, Speckled Wood and Red Admirals.


We are delighted with the increase in 'visitors' and are encouraged to add further plants to tempt even more varieties.


BEA PARKES - Dhaka, Bangladesh
Greetings from Dhaka on Wrington World Day! It is pouring with rain here at the start of the monsoon in Bangladesh, but lovely and warm and, with all the rain, bright green and leafy, even here in the city. I have had a pretty relaxed Saturday - and exercise free, since my morning walk around the lake (or "pond", really) was rained off, as was Saturday "social tennis".

The day has been spent reading old UK Sunday newspapers (I tend to get them 3 weeks late so just read the arts pages) and dodging the rain storms to do some shopping for cotton to make long shirts and baggy trousers for my sister and niece who will shortly be visiting (if you're not going to wear silk saris then loose cotton is the uniform here - and an almost total absence of ready made clothes for women (despite ready made garments being Bangladesh's top export product) means buying cloth by the yard and getting your clothes run up by a tailor).

I also managed to order a ring from the jewellers having, finally, after 2 years, decided that I like the yellow gold that is so popular here. The above were happily punctuated by visits to friends for lunch and then tea at my house (lemon grass tea and coconut cake - both basic ingredients from the garden). The great thing about the bit of Dhaka that I live in , rather like Wrington I suppose, is that it is very small and none of my friends lives more than 10 minutes drive away - so socialising is very easy.

Well, it is getting late now and I should get ready for work tomorrow (we work on Sundays here). Wishing you all the very best for the day and for a good year, wherever you are.

Bea Parkes
(Working for the Department for International Development)


BRIAN CREAMER - Arizona, USA
Hi to all Wringtonians from sunny Arizona. Today is my wife's birthday [I think it's EVERYONE'S birthday - see below Ed !] so will be going out this evening to celebrate. The weather is absolutely beautiful, it's 102 degrees today with no humidity. We have not had any rain since the begining of February and only had two inches of rain total last year (2002).The skies are so blue, not a cloud to be seen.

We have just got back from southern Utah and Las Vegas and on Tuesday we leave for a three months tour of the Eastern United States in our fifth wheel camper.
We will be visiting Houston Texas to see an old friend of ours from Weston-Super-Mare then on to Destin Florida, Mertle Beach South Carolina,North Carolina ,Virginia Beach to see our son ,then on to Washington DC, Ohio, Branson Missouri, Oklahoma City to see our daughter, New Mexico and then back home.

Hope you guys have a nice summer this year. Regards to all in Wrington, Yatton and Cleeve, Brian Creamer and Family


EMILY WATTS - Campina-Grande, Brazil
I'm the daughter of the infamous Tony who has quite a name for himself in Wrington! I'm 19, was born in Bristol, and spent the first 5 years of my life in Compton Martin. From there, my family moved to Yorkshire where I have been living ever since. However, I'm currently enjoying my gap year (pre-university) here. It's about 21 degrees, and as a result everyone has a cold and is curled up in bed!! Here in the north-east, it's the local Sao Joao festival, which is a 30 day carnival celebrating Forro - the typical dance of the region. It's all very traditional, but great fun and an opportunity to meet up with your friends to dance, walk around, try typical north-eastern foods etc.

I'm thoroughly enjoying my experience here, the people are very receptive to anyone who shows an interest in their country, and as a result I've settled in here very quickly. I'm teaching English in the language school here, but as a language student myself this is the only time I ever speak English!! I have travelled quite a bit, seen the amazing beaches and become addicted to carnivals in my 4 months here. Definitely a place which I will come back to, and one which I would recommend to anyone who wants to appreciate a sense of animation and 'joie de vivre' amongst the local people.

Despite the gorgeous weather, non-stop festivals and good times, I have inevitably found my way back to Bristol, where I will be studying languages at UWE this September. Maybe it's the sense of community felt within the small villages like Wrington, maybe it's the calling of my family in Redhill, maybe it's the unforgetable nights of fun at the mouse races and family bingo, maybe it's the shoe shops on Park Street - whatever it is about my original home town, I just can't seem to stay away for too long...!!!




DI RICHTER (WAGER) - Howick, Kwazulu Natal
Hello Wringtonians worldwide,

Here I am in sunny South Africa. It is mid-Winter and today has been the most gorgeous day. The temperature overnight was about 3ºC but our maximum today has been 20ºC in the sunshine on the lawn. This is typical of the Winter pattern in this part of the world. It is now about 5 mins to 5pm and we are about to light a fire in the lounge. It starts to cool off at about 4pm when the sun gets low in the sky and the shadows lengthen. We will spend the evening by the fire watching television or if there's nothing good on just talking and reading.

Today has been a normal Saturday with the usual things going on. The shops are open in the morning but most of them close at lunch time so that things are quiet in the afternoon. Of course the gift and curio places and the restaurants are open down near Howick Falls because the weekends are always the busiest times for tourists or visitors. The falls don't look quite as spectacular at this time of the year because this is our dry season although we do get the odd period of rain and mist and sometimes even snow not too far away.

Now is the time to visit the nearby (5 mins up the road on foot) Umgeni Valley Nature Reserve because it is easier to see the animals in the dry season and walking is not as arduous because it is not too hot. It is also the best time to walk down into the gorge at the bottom of the falls for the same reasons plus there aren't any snakes, they are all in hibernation. The view of the falls from the bottom is very special and the falls and the pool at the bottom have great significance for the Zulu people and for the Bushmen (the few that are left). The Zulus believe it is a sacred place and that a great spirit inhabits the pool. They believe that the place has great power in a very positive sense.

There is a creative energy about Howick and this area is known for its creative people, in arts, crafts and in all sorts of alternative healing. In a way it is the same sort of energy the Glastonbury has. If anyone is interested there is a website that covers the area giving all sorts of information about what goes on. It is www.midlandsmeander.co.za. There is also the main tourism website for this province which is www.zulu.org.za Unfortunately at the present time I cannot send any personal photos because I do not have scanning facilities but I will try and work something out.

Last Monday was a holiday here and the annual marathon was held between Pietermaritzburg and Durban. One year they do what they call the up-run which is from Durban to Pmb and next the down-run from Pmb to Durban. This year was a down run. The distance is 56 miles and it is incredibly hard going because it is very hilly between the 2 cities. This race has been going since 1921 when there were 35 runners, now there are 10's of thousands of runners from all over the world. This year was won by a young black South African which is terrific because the Russians have won in the last few years.

Personally today has been a quiet one for us. I made sausage rolls this morning and then a friend came to lunch. She arrived at midday and we sat on the lawn in the sun and had a drink and then lunch. She is an expat Englishwoman and was brought up in Bristol where she went to Colston Girls School. It's a small world as she knows Wrington because she used to stay with her Aunt and Uncle who lived in Redhill. She has lived in South Africa for many years but still regularly visits family in England and Wales.

Despite the fact that most of the trees have lost their leaves, the garden still manages to be private and tranquil. We watched the numerous birds that visited our three feeders, doves, bronze mannikins (about the size of a bluetit), weavers, cape white-eyes (yellow with little white rings around their eyes, small like the mannikins), mousebirds (like miniature brown parrots with long tails) and the ever present Hadeda Ibis that wander across the lawn (the size of a duck but with long legs,long necks and long curved beaks). Our friends the Gymnogenes( African Harrier Hawks) returned to the nest in the Gum tree at the beginning the month. They are now doing nest repairs in preparation for their next offspring.

Carolyn left us at about 3.30pm and we had clearing up to do. Thereafter we wandered down to the bottom of the garden with the dogs and cats following (a daily ritual) and now it is animal feeding time and a relaxing time in front of the fire, a snack supper and bed.

I do hope that you all had as contented and easygoing a day as we have had. Greetings to you all wherever you may be.


RICHARD THORN - Orchard Close, Wrington
So far I seem to have spent the day photographing birthdays ! For example:

John Maggs' 80th ... and Polly Maggs, too (not 80 !)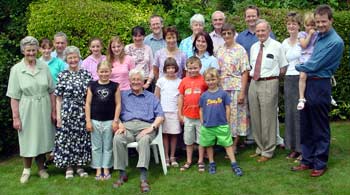 Jenny Smythe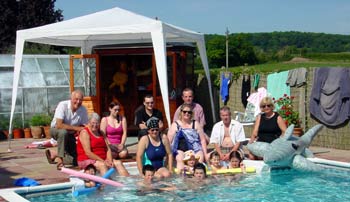 Sue & Helen Clark (both !)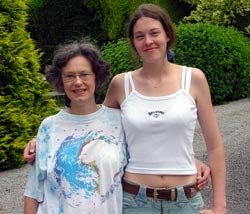 and the morning preparations for a 140th in the Memorial Hall (2 x 50s and one 40 Rob Clark, Mike Harris, John Rubidge) - it's a James Bond theme ! -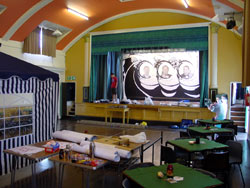 ...... became this by the evening: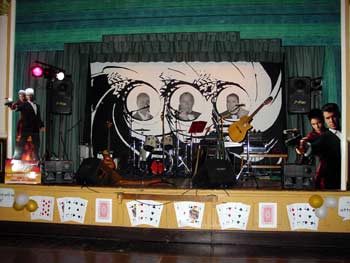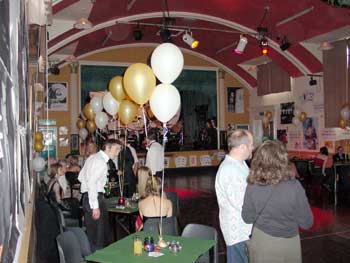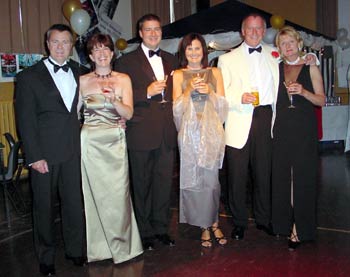 JOHN & JUDY MORTON - Tavistock, Devon
Greetings. We lived in Wrington for 11 years before leaving in 1990.


Read the web site every week and thoroughly enjoy keeping up to date with everything that goes on. Congratulations to Richard for all the work he must put into it.

Thought you would like to know what the Mortons are doing on June 21 2003. So far we've been for a run, we're very close to Dartmoor so it's great running country, had a phone call from Rosie, our daughter who's in New Zealand (who reminded us it was World Day and has already e-mailed in) breakfasted out-side and now it's on to the more boring things of shopping etc.

John will be busy getting the garden tidy for next weekend as we are holding our church's annual Strawberry Tea so if you're in the area call in. We'll also be talking to Alan (son) who's settled in Battle, East Sussex with his wife Jude.

We'll be off to NZ in December so we may call on all those old Wringtonians out there.

Best wishes to all those you remember us.


AUDREY PHILLIPS née Millard - Brisbane, Australia
Hi,fellow Wringtonians, & welcome to "KippaRing" Brisbane Australia. I was born at 20 council houses, Station Rd. but moved to "Field cottage when I was about 8, near the coal yard, which is now filled with houses.

My husband DAVID Phillips myself & my mum EDNA MILLARD now Campbell last visited wrington in 1996. Dave & I emigrated in 1964. Mum joined us in 1983 (but that's another story). The 1st thing I done today 21 june 2003 was to read the Weekend Shopper, this Saturday edition of the Courier Mail is full of things for sale.

Then I took the dogs for a walk - we have 4 - 2 have pups. We sold 3 Jack Russell pups today. Dave decided it was time to move our few head of cattle, we would have been o.k. if a kangaroo hadn't hopped down the road just as we got to the gate, but we did get them there eventually.

Mum came over and we read her mail 2 letters from the old country 1 from DOREEN Warford & 1 from JANET both sisters, SYLVIA & BILL still live in Wrington. We also read some of her poems. 1 granddaughter sleeping over tonight, the rest of the family are off to netball tournament early tomorrow, Stephanie doesn't want to go, so will play some games.and watch Born & Bred on t.v


Mum is 87 next month & sends her love to all her old friends.


Good luck for the fete in july. Hello to JENNY used to be COLES, my best friend at school. regards Audrey


LOUISE SANDY (née Collins) - Buckland Newton, Dorset
Hello from Louise in Dorset.


I lived in Wrington at 'Broadstone' until I went to College in 1978 in Cheltenham. We still visit all the family on a regular basis and do see other familiar faces from time to time.


I've just actually had one of those strange 'Wrington' moments. Our youngest boy had come home from school yesterday with a splinter in his tummy (don't ask!) and it was too deep to get out and looking nasty. So, we went to our doctors in Cerne Abbas for help. Having successfully removed said splinter, we were driving out, when to my surprise, I saw Terry Lions walking beside my car! I stopped and said 'hello' and discovered that it was the Wrington Bell Ringers Outing to Dorset and they were currently ringing the bells in Cerne. I found Joyce Smith and Barbara Coate to speak to but everyone else was ringing or looking around gardens.
You just never know when you are going to bump into someone from Wrington!!
As it was Wrington World Day, it was weird to say the least!


Mike, my husband and I are both in Education in Dorset. Mike is a Head-teacher in Sherborne and I teach 2 days a week ( soon to go up to 3 days) at The Abbey First School in Shaftesbury. Our boys are 8 and 5 respectively, although Stephen is 6 in 4 weeks time. They attend our local school in Buckland Newton and travel each day on a bus, which picks up from our gate. Matthew is football/cricket/golf/tennis mad and is never happier than when he is playing/watching sport of some kind. As you can imagine, he and Grandad (Ken Collins) have a lot in common and discuss results avidly! Stephen also loves his sport but not as intensely! He likes making things and taking things apart to see how they work. Perhaps it's the garage mechanic in him coming out from his Great-Grandad Sidney Kingcott!


Any way, they are happy and healthy which is the most important thing.


I gather we are supposed to say for Wrington World Day what we are doing today. Well, apart from an unannounced visit to the doctors and meeting up with the Wrington Ringers, we are spending the day at home, trying to catch up on a few jobs, as we have had some very hectic weekends lately. We have quite a large garden which can return to it's natural state if we are not careful! Later this afternoon we are going to an event at the children's school. It's called 'It's a Farming Knockout'.This is a local competition between school PTA's. Our school won it last year, so we have to put it on this year. I am on the barbecue, not in the team!!

The games looked very strenuous from what I could see yesterday when they were setting it up. It seemed to involve carrying a lot of water................ Still the boys will enjoy it and it's a good chance to catch up with the gossip!


I have sent a 'photo of Mike, myself, Matthew, Stephen and William (This is George and Liz's boy who wanted to be in the 'photo with his cousins!) taken in Long Lane this month (June 03)when we were visiting Mum and Dad.William is in the middle, Matthew in front of Mike and Stephen in front of me.


I hope lots of people get in touch today, it will be fascinating to read the results. Our e-mail is sandy@glanvilleswootton92.fsnet.co.uk if anyone feels the urge to get in touch. I am about to meet up with Trudie Hill who contacted me from Friends Reunited, so if any school friends want to know how we got on, let me know!!


Best wishes from all of us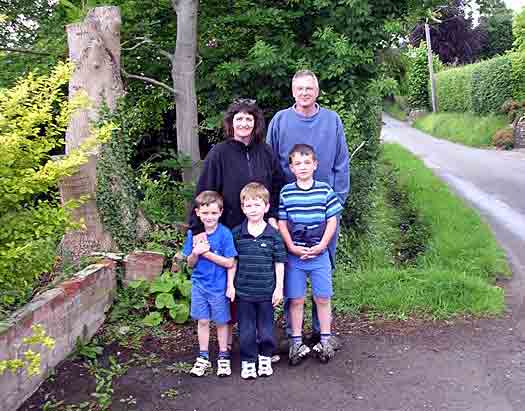 GARY CLEMENTS - On board the Corphaena, 15 miles off the Azores

Gary rang to say his satellite e-mail wasn't working properly, so he was 'phoning to register his contribution to Wrington World Day, and to thank everyone from Wrington who'd gone down to Falmouth to see him and Chris Knowles off.

They anticipated arriving at 16.00 hrs [but see his log - Ed.]


ROSIE MORTON - Helensville, New Zealand
My mum will never forgive me if I don't acknowledge this day, she's been reminding me of it for weeks and the fact that I've yet to put anything on the site despite exploring it a few times so here goes. The idea of a day is great, although I can't be there to join any formal celebrations (it sounds as if there are plenty of Wringtonians in New Zealand so maybe we need to meet up and have our own celebration next time!)

Yes, I've shifted to the otherside of the world, currently based in Helensville just north of Auckland but moving south to Waiuku in the next couple of weeks. I've been out here since the end of '99, teaching primary kids and enjoying it (for most of the time).

On the couple of occasions when I've been back in the UK I've always made a point of returning to Wrington if only briefly for a service up at the URC, as I said when we left Wrington in 1990 for Tavistock, I may live in Devon but Wrington will still be my home. Growing up in Wrington was great even if Garstons backwards is Snotsrag, which caused great amusement to us primary aged children at the time! The planning officers obviously had a sense of humour.

Anyway, the weather report from Auckland is that it is still T-shirt and shorts weather at the moment, although the mood may turn decidedly black tonight as the All Blacks are playing (loosing last week to England was a hiccup in the World Cup Plans) but if they loose to Wales tonight the entire country may go into mourning.

Keep up with the website. All the best Rosie

TONY LOACH - Vancouver, Canada (of the Paradise Roadhouse about 1932-44)
Hello Wrington,
Had this project been a few years ago I would have been busy doing one of two things today. (See attached Photo's) As I am now past both of those sports I shall just have to go and admire my tomato plants which are beginning to look as though I shall have a bumper crop.


Visiting the Wrington web-site has given me much pleasure over the last few years and I am beginning to feel as if I belong to the Wrington extended family.
So far away by miles, but really as close as my computer.


What a wonderful recent recollection that was of Dr. Bell, a man who I admired greatly. Steve may be surprised to know that H A Bell is well known to many of today's fly fishermen in British Columbia particularly to those that fish the lakes.


It is now 5.00 PM on Friday the 20th. at Vancouver, British Columbia ,Canada where I am. Its raining here now but its also Saturday the 21st in Wrington so I guess I can send this E-mail now.


So all the very best Wrington and thank you Richard for putting this whole thing together and also for keeping it running.


Regards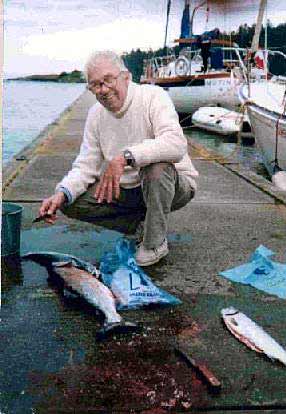 SARAH AVERY (née Midgley) - Wrington
Today I hope to spend the day working in my garden in preparation for a
week's time when we are joining with other gardeners in Wrington and sharing
our gardens with the rest of the world (with the small donation of £2.50 to
the charity concerned). I feel like making out a notice to be put at the bottom of our rather steep driveway: "pity you weren't here last/next week"!

I am looking forward to seeing all four of my children over the weekend - how
lucky can one get? They are in their late twenties, early thirties, and
given the excuse of a school reunion are all making the journey home:
Mimi and Jo work in Bristol, so not far to travel, and Richard will no doubt team up with sister Ros (in London for a year or so with her South African husband Peter) and cadge a lift home with them. He is quite happy to go through this life using public (or friend's) transport rather than adding to the Global Warming effect. Good on him!

This large house never seems to quite reach the perfection of its earlier life,
as there is always movement of one sort or another, with packages delivered (in shape of wineboxes) with monotonous regularity for my husband, and (more rarely) boxes awaiting collection; also suitcases coming and going to do with my husband's travels. I think I must enjoy the feeling of fleeting closeness it gives me to all of them, no matter how far away my family may travel.

I also feel that I live in the Upstairs world of this Strawberry Hill Gothic style house without the undoubted benefit of anyone Downstairs. The house seems to be very forgiving, though I expect the muddles shock one or two visitors. Even my late and beloved mother remarked, on visiting the garden shortly before last year's Open Gardens, "Oh well, darling, at least they can enjoy the view!"

Mustn't take more of your time, but should say perhaps that we are concerned
about Monsieur Giscard d'Estang and his designs for the European Constitution. Having had the last five years of my education at a french convent (in Switzerland) I was thrilled at the idea of a United Europe, and much impressed all those years ago that the "grown-ups" (I left school at 15) were going to be able to sit around a large table just like King Arthur, and get along together.

Back to home matters, those to which we may yet have some influence. We are
still recovering from the shock that our walled garden is not fox-proof.
After more than twenty years of keeping hens up there (without the onus of
shutting them in every night) a vixen has found a way of climbing the wall -
presumably with a very big leap to start her off - and has massacred our little
family of poultry. The line has been long, starting with three little black
Faverolles from the original Winford Market and bought by our friend Oscar
Spencer for our children ( I used to take the children there often in preference to the zoo). Through Buff Orpingtons and then Salmon Faverolles with a Windyotte and some Sussex Whites (or some such) we are now down to one and only dear hen who flies up to near the top of the Christmas Tree in her run, and who never fails to give me an egg a day.

So today I have borrowed a little incubator and intend to keep the "line" going for just a little bit longer and put all the eggs I possess in to hatch. My heart fills at the thought of our last broody hen (sister to the survivor) who brought up eleven dear little chicks only for the whole lot, including her, to be taken overnight by the wretched vixen.

Alright, I know her dear little cubs were hungry, but nevertheless.......
perhaps we should support foxhunting.

On a happier note, isn't all this absolutely MARVELLOUS, that we can all
speak to each other, all over the world, on the same day, and the best of it ALL,
is that RICHARD THORN has been prepared to put in goodness knows how many hours to bring us all together. And long may it continue. (and one day soon, Richard, I hope to come to the John Locke room and learn all about the things I can't as yet do with my computer!) A big "thank you" to him, and I insist that he prints this last bit out, and doesn't delete it!


OLIVE MELLETT - Wrington
Wrington world day .This March the Wrington day centre for the elderly, which was started 18 years ago under the umbrella of Age Concern, was closed down when Age Concern North Somerset ceased to function. This week at a meeting with former members of the centre, Rev Steven Newall and a representative from Brunellcare, plans were put forward to restart the centre under the umbrella of the U.R.C .and the co-operation of Brunellcare.

We now await the out come of this meeting ,and hope that our centre will soon be up and running again, after all since most of our members are in their 80's we can't wait too long !!

Greetings from an old Wringtonian to all who know our lovely village, in whatever part of the world you may be. God bless you all.
RICHARD KENNETT - Winnipeg, Canada
My home was in Orchard Close, Wrington from 1962 to 1970

It's a sunny morning on the Canadian Prairies, one day before the longest
day of 2003. The temperature in Winnipeg at 8:00 a.m. is 18 degrees C and
we're expecting it to climb to 31 degrees C by afternoon. The summer's
mosquito population has started to hatch and keeps us company as we care for
the flowers in our garden.

The film star, Richard Gere, is busily rehearsing his dance routines for a
new film he's making in Winnipeg with J-Lo! A local newspaper reporter was
able to capture him through a window.

I'm in and out of my office with the Provincial Justice Department all day.
I have a meeting this morning with a visitor from the Czech Republic who is
interested in establishing youth justice committees in his country and he
wants to learn from our experiences. Our committees receive young people who
have committed offences as an alternative to going through the formal court
process. It's fascinating work and we have much success with it.

Tonight, many Winnipegers will head off to their cabins situated around the
hundreds of lakes just two hours north and east of the city. I won't be
joining them but plan to go roller-blading at a local park and then chase
golf balls at a nearby course. Many geese nest in the ponds on the golf
course and pay no attention to us.

Best wishes to every Wringtonian !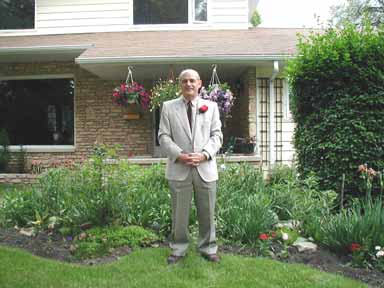 PHILIP WHITEHOUSE - Belgrave, Victoria, Australia

THE WINTER SOLSTICE, 2003:



A grey day, showers later, cool southerly winds, top temperature: 13C, an overnight low of 7C, with snow on the near-by hills- a feature not always associated with a typical Australian environment. For much of the year the climate in this part of Victoria is not so very different from Somerset, but the summer months (i.e. December, January and February) can be considerably warmer.

An English Para-Psychologist and his team have chosen to spend this night in the old Melbourne Gaol, now a museum. Armed with assorted digital cameras, sound recording gear and thermal sensors they are seeking ghostly apparitions. Australia is not blessed, or cursed, with as many such phenomena as is England, but, if we do have any on offer, this would be the place to find them.

Meanwhile, down the road at the new Docklands Stadium, there will be close encounters of a more substantial kind an in-form England challenges Australia at Rugby Union.

Belgrave, is situated amid the densely wooded uplands of the Dandenong Ranges some 40 Km east of the City of Melbourne. The Bunurong and Wurunjerri peoples roamed the area prior to European settlement in 1870; merely yesterday by Wringtonian standards!

To get here, the traveller passes directly through Kylie Minogue and "Neighbours" territory –the Melbourne suburbs of Camberwell and Wantirna South- before entering the hilly semi-rural fringe.

Belgrave's main claim to fame is that it is the terminus of "Puffing Billy": a preserved steam railway train that chuffs its way through the picturesque forests and fern gullies of the Ranges carrying throngs of enthusiastic tourists. The railway was constructed in 1900, which makes it a near contemporary of the late Wrington Vale Light Railway. The difference is, of course, that whereas the WVLR is a fading memory,"Puffing Billy" thrives as a perennial favourite in a country where revived steam railways are not as thick on the ground as they are in the U.K. (hence-the photograph).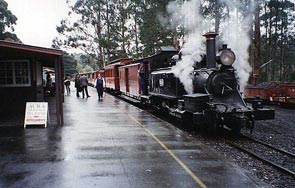 The name "Belgrave" was taken from the village of Belgrave in Leicestershire, original home of a leading pioneering family: the Bensons. This practice occurred throughout the "New World" countries, of course. Nostalgic settlers commemorated their origins in the naming of local settlements. Thus, in fairly close proximity there is a Selby (Yorkshire), an Upwey (Dorset), a Macclesfield (Cheshire) and a Berwick (Northumberland/Scotland).

Not to be outdone, together with the "Waratah Roads," and "Kurrajong Streets" we have a "Winscombe Avenue". Sure enough, it celebrates the birthplace in North Somerset of an early settler, one Charlie Hammond who was a noted artist and photographer hereabouts. (The actual name of the house was "Springfield", I discovered, owned by the Fry family in the 1860s. I wonder if it still exists).

STOP PRESS: England wins 25-14. Excuses? - well, the Wallabies sadly missed key playmaker Steve Larkham, while the return of Matt Burke and Andrew Walker will add more experience and bite to the back line for the World Cup.

And the Ghosts- who knows?


LYNDLEY HAVYATT - Sydney, Australia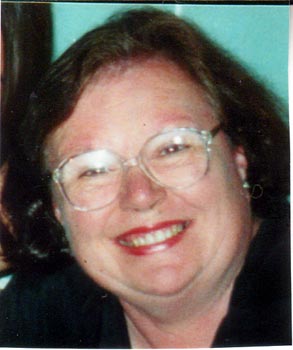 The weather is quite warm in Sydney, temperature about 19 degrees and sunny. I am attending a luncheon in honour of a well respected past Council member of International House (a residential college on the University of Sydney campus, where I work as receptionist).

He has been a strong supporter of the House in many ways and is in his 80's now. 85 people will attend the luncheon including Council members, University staff, Alumni members, Rotary Club members, International House residents from around the world.

Happy World Wrington Day to everyone!