Local resident, Sam Hawkins is training to take part in the London Moonwalk and will be keeping fellow Wringtonians up-to-date with her training schedule - and ultimately, of course - with the event itself. Samantha writes:

"If you don't know what the Moonwalk is (and I didn't until my best friend told me) it's the London Marathon, overnight, with 15,000 other women, walking the route ...IN OUR BRA'S!

The Moonwalk's been set up to raise awareness and funding for cancer research. My 'best' friend Tanya, yes the lady who roped me into the 26.4 mile, overnight shindig, has a young daughter, Livy, who was diagnosed with Neuroblastoma at 14 months old. Livy is now 3 and very well, however, this has motivated us to raise money for all forms of cancer and also to raise awareness of rare conditions.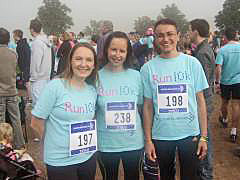 Me on the left, Tanya on the right, Lila in the middle

I'll be emailing a diary of progress each month, whether funny/sad/neurotic/chaotic of our progress as we train for this event. It won't be just a diary of our training, but I'll be including an account of how we feel, what we're thinking, and our fears and nerves as the event approaches. So it won't simply be a boring exercise chart.


I live in Wrington and I'd like to get the whole village involved and supporting us. I envisage a poster in the local shops and presenting a large cheque - as we're going to raise a lot of money - to cancer research at the end. Think Forrest Gump but without the beard and in a bra, when he starts running and he picks up supporters along the way, that's us.

We're local ladies and everyone knows Tanya's story. I believe the event and the run up to it should be a celebration of life and beating cancer. I also think it'll be inspirational for others who've been diagnosed with, or living with someone who has cancer.

Hopefully, it'll prove happy and joyous to read for those who've been left behind by their loved ones. I'd like to invite you to come on our 7 month journey. Please bear in mind I'm not a journalist but I hope you like the column and it makes you laugh.

So, let's begin with October."


OCTOBER

Let me introduce myself, I'm an ordinary woman called Sam, a mother and partner. I have a career and a very busy life. So when my best friend Tanya suggested I spend the next 7 months in training to do the London Moonwalk, I said yes! Not a second thought did I give to the fact that the Moonwalk is only 26.4 miles, requires lots of training and massive amounts of commitment. "Go on then, put my name down".

However, like all things worth doing, it wasn't simply as easy as that. After Googling the Moonwalk, Tanya and I discovered that to enter we had to be online at 9am on Thursday 17th October.

Easy, I can do that. So there I was, sat at my desk in work frantically clicking the "Entry" banner on the website which was helpfully telling me there was a lot of traffic to this destination and to try later (to be honest I think my right wrist has come down with RSI from the clicking) !

" I bet it's busy" went through my mind - 15,000 women all wanting to complete a Marathon in their bras walking around London in the middle of the night, insane.

An hour later - please dear reader, bear in mind I have to account for every 6 minutes of my life that I'm at work - I managed to sign myself and Tanya up. "We're in" I yelled down the phone to Tanya. "Oh no we're not" was the response.

On reading the smallprint, Tanya informed me our application was being processed and we'd find out 48 hours later if we had a place. Instantly the nerves kicked in. " I want to get in, I want to get in, please let me get in" was all I could think about and I knew that, as I'd entered on a Thursday, I wouldn't find out until Monday, when I logged into my email at work, if I have a place.

Suddenly it became really important for me to do this. A personal challenge, an amazing event of solidarity among survivors, family and friends. Stirring the gravy on Sunday, all I could think was " I want to get in, I want to get in, please let me have a place". Feeding the cats, loading the dishwasher, unloading the dishwasher, "I want to get in, I want to get in, please let me get in".

Monday morning, 27 emails in the inbox, as I scanned down the left column, there it was, my email !!! I'm sure my hand was shaking as I clicked my mouse over the title, "Hello Sam, congratulations and a big welcome to the team!". I'm in.