There have been a number of inquiries via the Schmoose pages over the years from members of the Chard and Cleeves families asking or talking about relatives with Wrington connections. When Marlene Shaw (née Chard) sent some family photographs at the end of 2009 asking who some of those shown were, it got John Hobbs off on a trail which rapidly widened to include the Plumleys, the Holliers and the Hobbs. This personal quest of our various correspondents is brought together here, with the most recent first, for ... the story so far.

---
Lois Ellett Pawson - Brighton, 15th February, 2010
Yes - that's me. I've been continuing with my Hollier quest and visited Wrington last May - when we stayed at the excellent Stablegrove B&B and were even invited to see inside the tiny cottage in Station Road where my mother, grandmother & greatgrandmother lived with their implausibly large families with just a garden standpipe for water.

We also went to see the Barley Wood walled garden where it was likely that Henry Hollier worked as a garden labourer or gardener towards the end of this life. Sadly there were no remaining Holliers living in Wrington - but we spoke with old folk who remembered them.

I have mapped out my full tree (as known) at www.genesreunited.co.uk - if you want access to my tree - do visit this website and send me a 'request' within the website for gaining access to my tree.

Yes I have Joseph Hollier and Eliza 'Plumby' in my tree. Eliza Plumby b Burrington 1829. Joseph Hollier is son of Charles Hollier and Sarah. However I have not researched Joseph & Eliza's children and the names of the other people mentioned in the email don't appear in my tree.

During my visit to Wrington I noticed the names 'Plumly, Plumbly, Plumby, Plumley' occur fairly frequently in the Wrington church births & deaths records - there also is a lovely old gravestone for a Thomas Plumly d 1731 aged 42 years in the Wrington churchyard - he may be linked in some way but I can't be sure. I also have a Sarah Plumbly (b 1795 Somerset) in my tree (she marries a Samuel Hollier - son of Thomas Hollier & Jane Rawlings).

Regards

Lois Ellett Pawson

---
John M Hobbs -Westbury on Trym, Bristol, 13th February, 2010

Hello again Richard, Can you please put me in touch with Loise Ellett, Hove, Sussex [who emailed the Schmoose page in 2002 - Ed] , as we may be able to help each other with research into our family tree.

The Hollier family from Wrington is another branch of my tree. Rhoda Hollier, born 1859, married, I believe, a George Cleeves born 1861, married 1888 Bedminster, Bristol. Rhoda had sisters Louisa born 1852, Amelia born 1856, and brother George born 1866.

Their parents, I am not sure, but could be a Joseph Hollier and an Eliza Plumley but cannot be definite about this, in the Blagdon, Burrington, Wrington area. Also can you please add my name as a researcher of the following families, Plumley/Hollier/Cleeves/Chard/Hobbs on your web site family research. Thanks again for your time and your help.

---
John M Hobbs -Westbury on Trym, Bristol, 11th February, 2010

Thanks again for putting me in touch with Yvonne Spratt (née Chard), She has been in touch and I have sent her some details about my family tree, and await her reply.

I was again looking at your web site and clicked on Schmoose Swapping Memories, I did not see it before when I first looked. There is a letter dated 26 Feb 2009 from a Gwyn Cleeves in Sutherland, NSW, Australia. She ends her letter "Say hi to all of the Cleeves".

As I have a connection with my family tree with Cleeves, I wondered if there is a connection. Albert Cleeves married my Great aunt Annie Elizabeth Hobbs in 1892. After that date I cannot find them or their family, and it makes me wonder if they had emigrated.

If there is any possibility of making contact to see if they have a family tree it would be appreciated. [My local inquiries suggest these Cleeves family connections are more with Wells - Ed].

There is a strong connection with the village of Wrington to my family tree, Cleeves/Chard/Hollier, all from the Wrington area. Many thanks for your time.

---
Marlene Shaw (née Chard) Bargoed, Glamorgan, 9th February, 2010

Another photograph to put on the site if you could for me, thank you so much. I do not know anyone on there at all, my cousin seems to think it was in Wrington.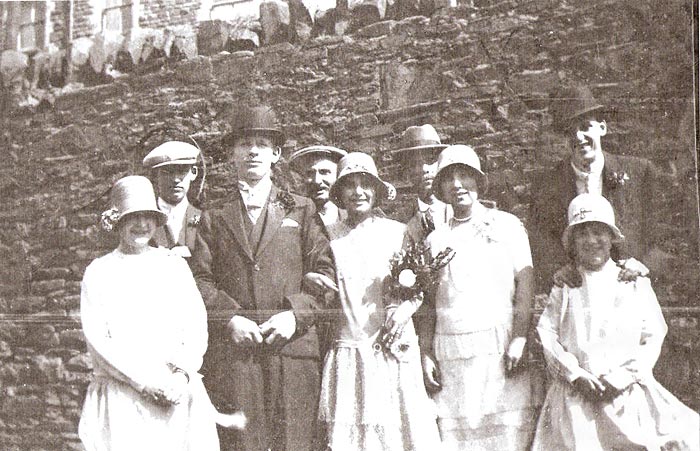 ---
Marlene Shaw (née Chard) Bargoed, Glamorgan, 8th February, 2010

Thank you so much, I will get in touch [with John Hobbs]. There is a connection. Thank goodness for your lovely website. It has helped me no end.

---
John M Hobbs -Westbury on Trym, Bristol, 7th February, 2010

Please forward my enquiry to Marlene Shaw (née Chard) re Family tree.

Marlene, In your research of your family tree have you come across a Hester Chard Born 1825 Wrington, Somerset, died 1902 Wrington, Somerset ?

Hester married an Edwin Cleeves in 1856, Edwin was born in 1815 Wrington, Hester was his second wife, he was previous married to a Charlotte ...[?] There were seven children in all, three by his first wife and four by his second wife, Eliza B 1835, Hanna B 1837, Priscilla B 1841.

Then his wife then Charlotte died in 1851, William B 1858, George B 1861, Albert B 1864, Henry B 1870, by his second wife married in 1856.

Albert Cleeves born 1864 is the connection to my family tree. He married an Annie Elizabeth Hobbs, born 1871 Bristol, at Bedminster registry office Bristol 20th April 1892. From that date on I cannot find any information about Albert and Annie, the 1901 and the 1911 census shows nothing - no births or deaths. The only thing I can think of is they may have emigrated. The 1891 census and at the date of their marriage Albert was a coal miner. In 1881 he was a labourer. If there is any connection to your family tree do please get in touch. I have my family tree on a web site called Tribal pages.

---
Marlene Shaw (née Chard) Bargoed, Glamorgan, 2nd February, 2010

Here is another photograph that we cannot seem to identify, maybe it is relations back in Wrington.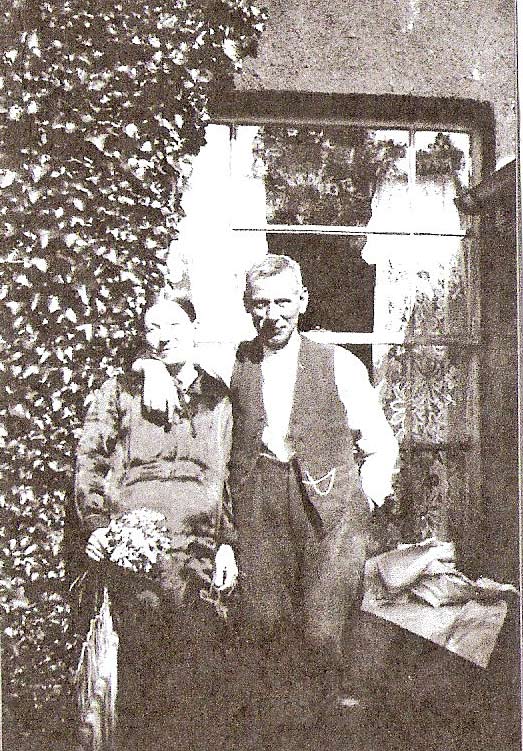 ---
Russell Crook - Camulodonum (Colchester) Essex, 27th January, 2010

Photo of the younger "gunman" is my father, once again outside Rose Cottage.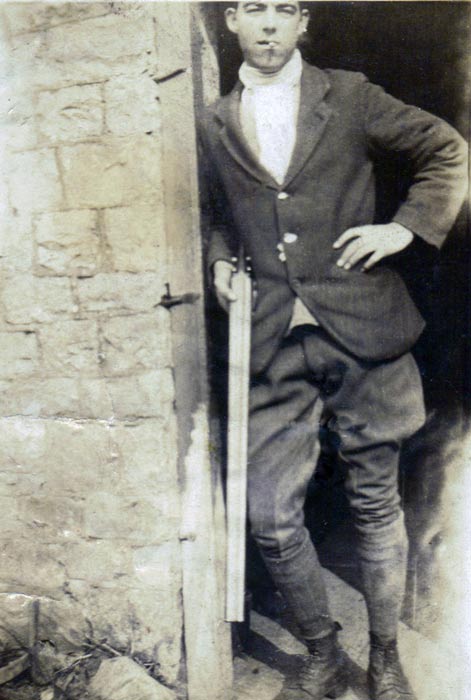 ---
Marlene Shaw (née Chard) Bargoed, Glamorgan, 1st January, 2010

Thank you so much for a quick response.
I hope you do not mind here is another photo of my grt Aunt [Don't mind at all - that's what the website's all about - Ed]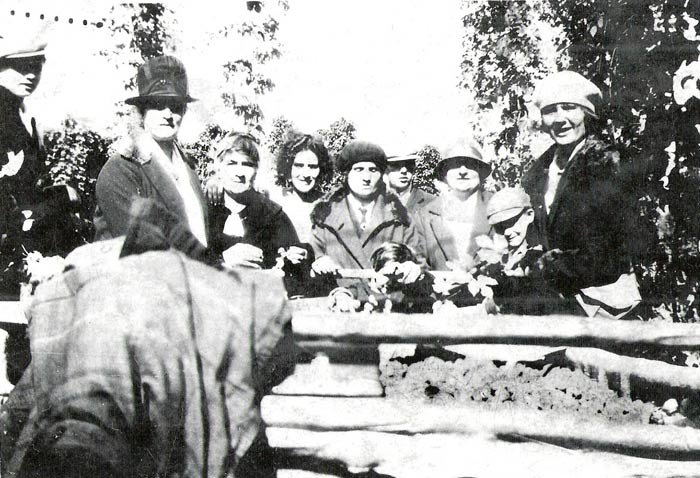 She is on the left of the photo wearing a big hat next to the young man It is hop picking day. Can anyone identify who else is on the photograph ?

---
Russell Crook - Camulodonum (Colchester) Essex, 31st December, 2009

I am conviced that the two "gunmen" are my G/fr and my father. The picture was, I think, taken outside of what was then Rose cottage. G/Fr married Ellen Chard; they had their family in the cottage, it's next to the church. Hope this adds a little more light.


Russell Crook, Wringtonian 1932-1952
[and see January, 2010 entry - Ed ]
---
Marlene Shaw (née Chard) Bargoed, Glamorgan, 27th December, 2009

I am sending a photograph taken in Wrington of a cricket match. The man third from the left in the front wearing batsman's attire and a black hat there is a cross marked underneath him. There is no name on the photograph of any person at all.



My cousin gave me a copy of the photograph which belonged to my Grt Aunt Elizabeth Ann Rogers (née Chard), and her parents and siblings lived in Wrington. Annie, as she was known, left in 1911 after her husband died, to come to Wales to be near her brothers who had left a few years previously. If anyone can identify him it would be wonderful ( I am on the Family History page there).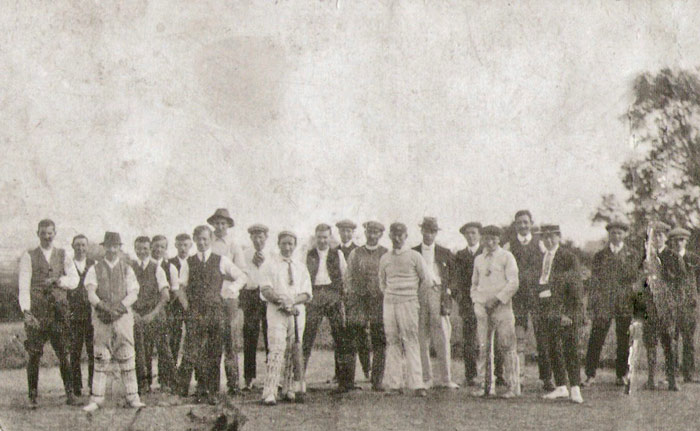 Another photograph which, hopefully, someone can identify two men - father and son, I think.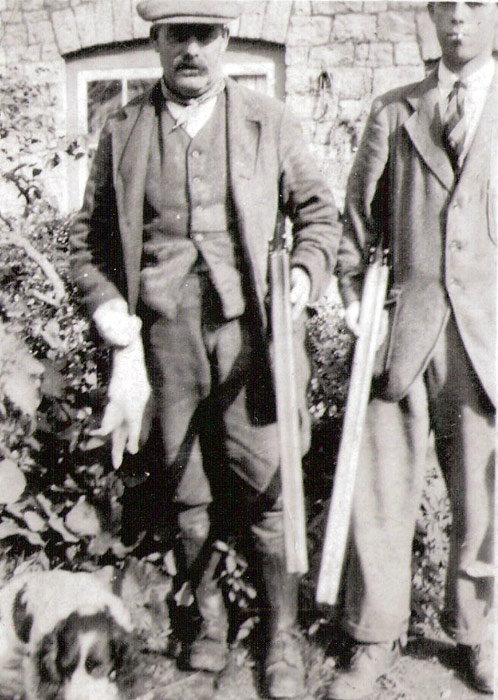 I have another photo with Helen "Nellie" Crook (née Chard) with the same older man pictured here. Maybe it is her husband or brother ? Hopefully someone can identify them and let me know their names. Thank you so much.

---
Marlene Shaw (née Chard) Bargoed, Glamorgan, 2nd March

Please would you add my Great-Great-Grandmother to the family tree website. I am researching her family. She was Elizabeth Carey b. Wrington 1835; her parents were Mark and Ann (née Plumley) Carey. Her siblings were named Emma, James, Ann, John, Eliza, Jane, William and Mary all born in Wrington. Elizabeth`s father was listed as a farmer.

Anyone reasearching any of these names please get in touch.

Thank you so much and keep up the good work you have a wonderful website.

---
George Crook - Devonport, New Zealand, 7th June, 2007

Thanks for passing this on Richard. I'll contact Marlene. My father was Frank (aka Douglas) & my grandmother Nellie (real name Ellen). Remember them mentioning the Rogers' name - many years since of course Nellie must have died at least 50 years ago. Quite strange to know there is still someone out there who remembers the old lady.

On a brief visit to Wrington several years ago, I knocked on your door just to say hello but unfortunately no one home at the time so never got round to meeting you in person. My son & grandaughters have visited several times & been very impressed with the village & the church. Incidentally, Google Earth has a brilliant image of Wrington & I can clearly see the roof of our old home "Brook Cottage"

---
Marlene Shaw (née Chard) Bargoed, Glamorgan, 5th June, 2007

I .. now have a little more information: I am looking for my relations of Alfred (Alf) Chard and Joseph and Nellie Crook. My grt Aunt Elizabeth Ann and her family (née Chard) Rogers born in Wrington would visit every year her cousins Nellie (Ellen) Crook (née Chard ) wife of Joseph.

I am told they would go every year to Wrington and stay. Alf Chard lived in the cottage next to the Church; he worked in the mushrom business there. Nellie had a son Frank and daughter Mary - more children I expect but only those I know of as yet.

If anyone can help me find or know of my relatives it would be lovely to get in touch.


Thank you so much

---
Marlene Shaw (née Chard) Bargoed, Glamorgan, 4th June, 2007
I am looking for grt grt grandfather's nephew Alf Chard who lived by the Church in Wrington and worked in the mushroom industry; this would be about 1930s. I would love to get in touch with any relations or if anyone has any information or photographs it would be very much appreciated.

---
Marlene Chard Shaw - Bargoed, Mid Glamorgan, 1st July, 2004

I wonder if it would be possible if you could put this photo of my Great Uncle Henry Chard b.1860 Wrington. I believe he is the only brother who stayed behind in Wrington when my Great Grandfather came to Wales.

I also have two more un-named photos and two of men in their Army uniforms in the Boer War , if anyone has any info on the family or info at all can they please contact me.

---
Marlene Chard Shaw - Bargoed, Mid Glamorgan, 29th June, 2004

This is to say a big Thank you , to all the kind people whom I spoke to and helped me , and took the trouble to listen, on my recent visit on the weekend to Wrington and Redhill.

After tracing my Family Tree I was able to see the Village where my Grt Grandfather Alfred James Chard and his father before him Charles Chard and their families lived and worked.
My Grt Grandfather came to Wales to work at the age of fourteen - it must have been a big culture shock moving from a very beautiful place - Wrington - into the then blackened Coalmining Valleys of Wales. He would visit his parents quite often in Wrington after he had married and settled in Wales.

Hoping to visit you soon and find out more.


Thank you once again.

---
Marlene Shaw (née Chard) - Bargoed, Mid Glamorgan - 11th June, 2003

Tracing my family tree I have found that my Great x4 Grandparents were born and lived in Wrington: Charles Chard b.1810 also his Father William Chard.

I was really happy to see the village via the website has I had no idea of what it was like up until now. I am hoping to visit it in the near future and and walk in my Grandparents shoes, to see the place of their birth etc. The site is really interesting and informative.

---