THE IMPACT ON WRINGTON OF
PROPOSED DEVELOPMENT AT BRISTOL AIRPORT
[
This paper submitted to the website by a local resident giving the name and address of the writer
]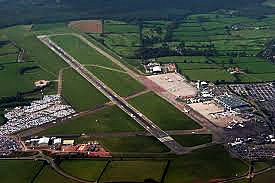 2 Parish Council public meetings - see details below
Bristol Airport, which today handles some 8 million passengers per year plans to expand to cater for 12 million (to be increased to 20 million by 2040). The sole motive for the proposed expansion is one of commercial profit. The airport is owned by Canadian and Australian investors whose only interest is to make a profit. Its financial structure is such that it pays very little tax in the UK. There is therefore no reason why its expansion should be approved in the absence of clear advantages to the area that outweigh the disadvantages.

The airport is of course an important asset. It provides travel facilities, brings people into the area and creates employment. However there is no evidence that increased capacity will provide increased economic benefits for the region since business passenger movements remain a small and fairly static number (17%) and most passengers pass straight through to go on holiday without spending money. Expansion is unlikely to create a significant number of jobs for local people and it will bring substantial disadvantages: noise and pollution levels, saturation of roads and other infrastructure, damage to the landscape and the environment.

The North Somerset Council, as the planning authority, has a duty to ensure that expansion of the airport is regulated and that it falls within the complex statutory planning structure and the government's broad policy for airport development. It does not always take account of the interests of local communities. A planning application has been made to which the N-Somerset Council will receive comments and objections until 26th January. It is of vital importance that residents of Wrington are aware of what is proposed and how it will affect them, both in the immediate and the longer term future and that they present their views to the Council. This can be done by letter or online via their town planning website.

The airport has elaborate plans to reduce noise nuisance. Wrington is not directly in the flight path and aircraft noise levels are normally kept to an acceptable level. Expansion of the airport is (unless and until a second runway closer to the village is constructed) unlikely to increase noise levels. However what will certainly increase is the frequency to which people are subjected to that noise. More flights are likely to bring pressure to increase the number of night flights. Any increase in airport capacity must be subject to conditions that impose strict limits on the times and numbers of night flights and include steps to ensure that those limits are enforced.

Any increase in flights will bring an increase in air pollution. This will have an effect on local peoples' health but, perhaps more importantly, it will bring a significant increase in greenhouse gases at a time when the World is struggling to curb these to a level that will avoid catastrophic climate changes in the foreseeable future. The government anticipates that emission free electric powered aircraft could be in service by at the earliest 2035. No increase to airport capacity should be considered until the realisation of this is much closer.

Expansion would increase the traffic on our already seriously overcrowded roads. The additional traffic on the A38 since the opening of the South Bristol Link Road is noticeable. 41 new homes are being built opposite Budgens on the A38. The crossroads on the A38 at Churchill is already listed as a traffic 'hotspot'. North Somerset Council's 'Joint Spatial Plan' envisages a further 2,500 homes in a new village to the North of Churchill, for which a new road link is planned as part of the Banwell bypass. If built this will provide a link from the M5 to the A38, joining the A38 not far South of Wrington. Even without any further airport expansion our roads will become even more crowded and, since there are no plans for new schools, medical centres or other infrastructure, the whole area will come under pressure and its present rural character will be under threat. Further expansion of the airport can only accentuate this.

There has been a growth of unauthorised and illegal 'pop-up' parking sites that provide flexible parking capacity when the airport cannot meet demand. These unauthorised and illegal parking sites, often on agricultural land, demonstrate a contempt for planning laws and procedures. They bring an influx of cars into country lanes, creating hazards and nuisances, including unacceptable traffic congestion, noise, pollution and litter. It is estimated that up to 30% of airport parking uses these sites. There is a compelling case for off-site parking, including park-and-ride, to be open to regulated competition. The airport is unlikely to invest voluntarily in such facilities because the vast majority of it's profit (some £27,000,000 p.a.) comes from on-site parking.

The airport area and the airfield itself are within the Green Belt. Plans are being formulated that would result in the airport being removed from the Green Belt so as to allow a looser control of development operations. If the long term expansion plans go ahead this could result in development taking place on the southern side of the area, much closer to Wrington.

How can local residents influence the planning decision?

A number of groups are planning to oppose the planning application in a variety of ways. However any local resident can comment or object in writing either by letter to the Town Hall in Weston-super-Mare or by email via the council's website
planningsuppor@n-somerset.gov.uk. Each letter should quote the planning reference number 18/P/5118/OUT and should come from one person only. It should state clearly their name and address of the sender and the grounds upon which they comment or object. The Council is obliged to consider each objection on its merits.
~ ~ ~ ~ ~ ~ ~ ~ ~ ~ ~ ~