Hannah joined her sisters when she was about sixteen. She was very popular viith the pupils. She was not satisfied with the kind of literature available for young ladies, so she set about writing poems, little plays and Bible stories for them. These were appreciated by the parents of her pupils.

The Search for Happiness, a pastoral drama for young ladies, brought her much acclaim. It was written when she was seventeen. She also translated from Italian and Spanish works and the Odes of Horace, Metastasio's Attilio Regolo inspired The Inflexible Captive, her first professional play, which was performed on April 9, 1775, at the Theatre Royal, Bath.

Life at the school run by four lively girls, must have been happy and exciting, but not without its drama. A young man became attracted to one of the pupils, a 15 year-old heiress. He used to attract her attention when they were out for a walk in a school crocodile. He secretly communicated with her through the help of the housemaid, secret meetings were arranged and eventually they eloped and were married at Gretna Green.

Hannah, as soon as she heard set off in pursuit, but the young pair kept one step ahead. Hannah's vivid account of her search in London with the help of the Bow Street runners shed light on this. The young couple went to France, where the husband took possession of her fortune then deserted his bride and sailed for the West Indies where he is said to have amassed another fortune. His bride retuned penniless to Bath where she died soon after. Hannah, when she heard, befriended her and did what she could.

Hannah herself became engaged, at the age of 22, to Mr.John Turner, of Belmont House, Wraxall. She met him through his cousins who were pupils at Hannah's school. She gave up teaching, in order to prepare to become the wife of a rich landowner 20 years her senior.

The marriage was not to be. Three times it was arranged and cancelled by Mr.Turner; some say he was too frightened and was overshadowed by this lively, clever young woman. There is no doubt Hannah was greatly affected by this disappointment. Her poem, The Bleeding Rock, about a rejected lover turned to stone (except for the heart which bled when struck) was based on rock strata in the Wraxall area with iron deposits, which appeared to bleed after rain.

Mr.Turner begged for a fourth chance - he would marry Hannah any time, anywhere. But this time Hannah said; "No". He offered her an annuity in compensation for his breach of promise but Hannah refused.

Sir John Stonehouse, an old family friend, had long discerned Hannah's talents. He stood by her, spoke to Mr.Turner of his obligations and obtained, without her knowledge, an annuity of £200 for her.

At first Hannah refused and was indignant. Her friends persuaded her to accept, pointing out this would make her independent and she could devote her time to her writing. This she did and, armed with introductions to the famous and influential in the world of literature and the theatre, she set out for London to a life of success of which she could never have dreamed.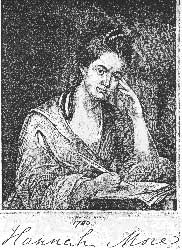 LONDON LIFE

Letters from Hannah to her sisters in Bristol reveal all the excitement of a young woman visiting the capital for the first time. Accompanied by sister Martha, the purpose of this visit was to see her publisher Cadell and to gain those all important introductions, with letters from her influential friends like Sir John Stonehouse.

Within a week, Hannah had been introduced to David Garrick and his wife. She became close friends with them for the rest of their days. She attended dinners and assemblies and her bright conversation, her intellect and wit made her an instant success.


teaching




start of her writing




amatory adventures













Hannah's engagement
















annuity



























Hannah in London




David Garrick