Local writer Sue Gearing has been researching and publishing West Country
walks for many years. Here she recounts her love of walking - and describes book of Mendip walks.

The Mendip Hills are a wonderful landscape to be viewed from Wrington and
many Wringtonians have over the years learnt the pleasure of walking there,
but many haven't, even though they 'mean to do so one day'.

So, it was very much with exploration and uncovering some of Mendip's
secrets in mind that I embarked on my second published book of Walks in the
hope that it would introduce more people to the hills and give them hours of
healthy enjoyment.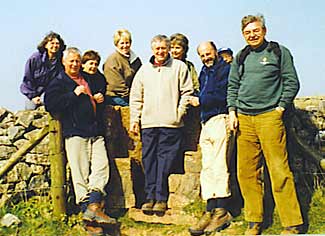 Walking, in my view, opens the gate to peace, health, beauty, history, geography,
flora and fauna. The book of twelve circular walks is now finished and will be in bookshops in the region and in shops in Wrington around the end of May.

Over the past few years, since the publication of the first Walking in the Mendip Hills book, I have pored over the two Explorer OS maps that cover the area and then set out to devise a series of circular walks. With me may have been my husband Peter, or a friend, or very often just myself and my very special companion, Shabba, the foxy looking dog owned by Tim and Jo Gillans, or otherwise 'the Wrington Post Office dog' .

Many of the walks kept me in touch with Wrington as I viewed the village from various points on the western escarpment, including Dolbury Hill Fort and by Hazel Manor. Our church tower is always a glorious focal point.

Views of all kinds are something I try and introduce into the walks and there are many in this series - notably along the north edge of Cheddar Combe, looking over Blagdon Lake or casting the eye across the Levels from Deer Leap. These are the spectacular vistas but there are other more surprising views and sights - coming round the corner and suddenly seeing ahead on the sunken path the banks covered with hart's tongue ferns, bluebells, wood anemones, wild orchids, the shimmer of water across Blagdon Lake with the village high up on the hill as the backcloth, or Wells Cathedral rising out of a Mendip mist.

And another feature of my walks is a pub en route: the Ring o' Bells at Compton Martin, or the pub of the same name at Hinton Blewett, the Crown at Churchill, pubs in Priddy, the Strode Arms at Cranmore, the Gardeners Arms in Cheddar, the Sun Inn at Whatley or the George at Nunney. It is hard to beat the pleasure of reaching a pub on foot after a few miles when you are pleasantly tired and then having a distance to go afterwards to work off the food and drink.

One walk goes to the steam railway at Cranmore, another takes us through an
emerging forest and then there's a medieval settlement, a hill fort, several
interesting old churches, a castle, the "Civil War village" of Norton St Phillip, Smitham Chimney, the Pinnacles in Cheddar Gorge, pretty Biddle Combe and more.

There is wildlife to see also - animals, flowers, trees of all kinds as we make our way through the differing Mendip landscape which stretches from Uphill in the West to near Frome in the East.

"How far are these walks?" is usually the first question I am asked. Well, you have a good choice of anything from about 3.75 miles to 8 miles, and all the walks are circular. Some are easy and flat, others are challenging, and all require good footwear and a reasonable level of fitness. They are, after all, country walks and not polite strolls.

Obviously the most important part of each circle must be that you can follow the direction. I have had many years experience of writing walks - something around 400 published altogether, so I am fairly confident that I will get you round easily and safely. Each walk has a simple sketch map, and instructions which are divided into numbered sections.

Walking is supposed to be Britain's most popular leisure pursuit, and yet I am constantly amazed at how few people I ever encounter - sometimes I meet no-one at all. Exploring Mendip's byways continues to be peaceful and very relaxing, so I hope you will put on your boots and put your best foot forward.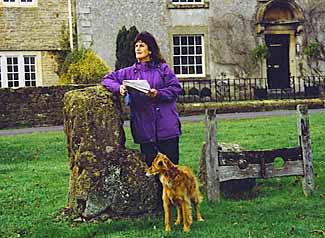 Happy walking!
Sue Gearing

The book which is published by Halsgrove will retail at £4.95. If you have problems getting a copy contact me on 862279.

Also this month sees the publication of More West Country Walks, a compilation of 20 of Sue's walks all over the West Country from her series in West Country Life, the Saturday supplement of the Western Daily Press.