This September at Maize Maze at The Walled Garden in Wrington.

Following on from the amazing fun that was had last year, the Maize Maze at Barley Wood Walled Garden is back. This maze at the Walled Garden has been designed by resident artist and potter Bill Moore.

"We had so much fun creating the Maize Maze last year and the feedback from our visitors was so
brilliant, we just had to do it again," said Bill.

"This year the maze is a little bigger covering just over two acres. It is also a little harder, with more dead-ends than ever".

In September the maze will be open every Saturday and Sunday 11am - 5pm and the maze team is
bringing back the popular Torchlight Nights. Getting lost in the dark gives the maze a new twist.

Every Saturday evening in September the doors will also be opening at 7.30pm -10.30pm (last entry at 9.45pm).

When darkness falls, bring your torch and see how magical the maze becomes. Entry fees apply.

There is also a quiz hidden within the maze this year, so as you exercise your legs you'll be exercising your brain. Over the Summer the maize will grow to a height of over eight feet, so you will really be able to lose yourself amongst the rustle of the maize plants, before arriving at the ultimate destination - the centre.

For more details, to find out the latest news from the gardens, and to check out the crop height of the maze each week, visit the website at http://www.walledgarden.co.uk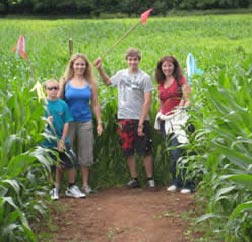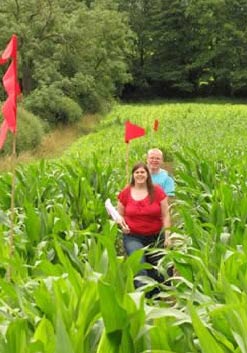 Every Saturday evening in September - Torchlight nights

Add a new twist.....and get lost in the dark!

Normal entry prices apply