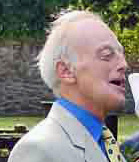 Many people in Wrington and far beyond were saddened to learn of the death on Saturday, 30th June, of Ken
Stott after a long illness, which, typically, he refused to allow to diminish his interest and participation in the
many village activities to which he made such a contribution over all the years he and Audrey lived here.

He wasn't prone to say 'no' to any challenge, and the way he went about the celebration of their golden
wedding only a few weeks before, proved how much he remained his own man to the end. He had been a
core member of the group who spared no effort in raising the necessary funds to bring about the building of
the Sports & Social Club pavilion on the Rec.
His professional specialism was the study of willow at the late-lamented Long Ashton Research Station, and when in January,
2005 he was awarded the OBE in recognition of his achievements as National Willows Officer, a post he held from 1949-1999,
he consented to the website carrying his opening address to the Willow Biomass Conference, held at Long Ashton, from 3rd to
6th September, 1994. You can read it in full



His funeral was at South Bristol Crematorium on 16th July. He is survived by Audrey and their children Rebecca, Paul and Andrea.