The Queen's Diamond Jubilee was celebrated in style in Burrington and Rickford with a programme of events coordinated by Burrington Parish Council.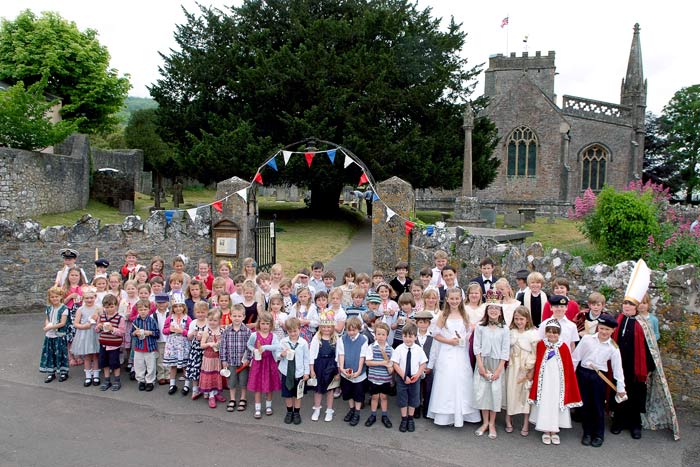 The week-end celebrations began with the re-enactment of the coronation in Holy Trinity church by the children of Burrington Primary School, conducted by the Rev Nicholas Maddock, who deputised for the Archbishop of Canterbury, and was assisted by the Bishops of Bath and Wells and Durham.

Her majesty, Queen Elizabeth (aged 11) was cheered to the rafters of the church before all the children, suitably dressed for the occasion, received specially commissioned Diamond Jubilee Mugs from representatives of the Parish Council, Rickford Community Association and Holy Trinity Church.

Holy Trinity was the scene of the next event, when on Sunday morning there was a special service of thanksgiving for Her Majesty followed by drinks, nibbles and a loyal toast.

On Sunday afternoon Rickford was the setting for a Royal Pageant, with some 35 craft, made by local 'children' of all ages, and ranging from heavily armoured war ships to whimsically decorated vessels of dubious construction. They sailed down Rickford Brook beneath specially constructed bridges, including Tower Bridge. There was a large crowd of onlookers and much bunting and flag waving to witness and celebrate their navigation of the fast flowing stream.

The flotilla was followed by a Royal Corgi Hunt. Fifteen decorated wooden corgis had been hidden around the village and a set of cryptic clues were provided to add to the intrigue. Her Majesty was spotted taking time off from the Royal Barge to exercise her real live corgi through the village.

On Monday there was another large gathering at the Jubilee Picnic in the field behind Burrington Primary School. Jerry Blythe and his band provided live music which helped swell the takings at the bar, barbecue and teas tent. Meanwhile children enjoyed races and sports activities, face painting and craft stalls before watching some of their parents and friends take part in a highly competitive rounders match with Burrington beating Rickford and claiming the specially engraved cup.

The festivities concluded with an official Jubilee Beacon near the top of Black Down, on a calm clear evening with well over 100 people making the climb. They cheered the lighting of the impressive beacon at 10.15pm by Sir David Wills and then spent time spotting other distant beacons as far away as the Welsh mountains.

Burrington Parish Council would like to thank the many residents and organisations who gave so much time, thought and energy in advance and during the week-end to provide such a diverse and imaginative range of events. They made a fitting tribute to Her
Majesty's diamond Jubilee and reflect the strong community spirit throughout the parish of Burrington.

Paul Keel and Martin Kerly